How to validate your business idea with Tally
Use Tally to gather feedback from your target audience and understand whether your product has viable market demand.
Before building your product you want to investigate the desirability of your idea. The most important thing to ask yourself before rushing in head first is: do people actually want or need my product? To be confident that your solution is something people want, you want to validate the market before you start building. Tally helps you to validate or invalidate your assumptions without touching a line of code and above all without wasting time, effort and money.
Here's a couple of ways how you can use Tally to gather feedback from your target audience and understand whether your product has viable market demand.
The Landing Page
Creating a landing page is one of the fastest ways to validate an idea and to test the waters without developing your product. Showcase your product and collect email addresses to notify potential users when you launch. With Tally Pro you can connect your own domain to your Tally form and customize the entire page to make it seamlessly fit your brand.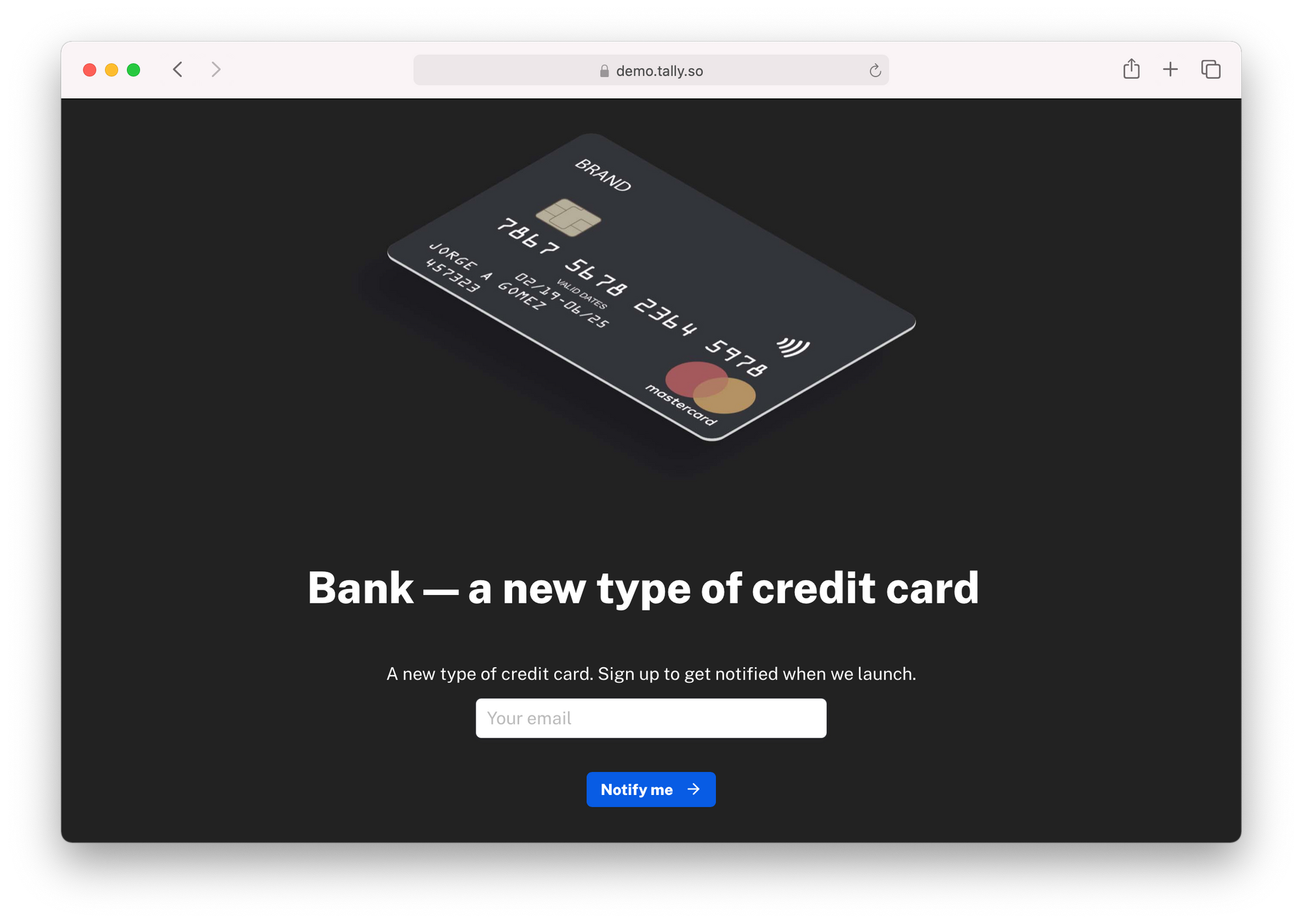 👉 Take a look at this landing page created with Tally
The Fake Door Test
Joel Gascoigne used a very simple landing page before building Buffer and included one call-to-action called "Plans and Pricing". When clicking the button users would be taken to a form (saying: "You caught us before we're ready") where they could leave their email address.
The goal of this simple page and form was to check whether people would consider using the app. The next thing to validate was the pricing, so another step was added to the form with 3 pricing plans. People still signed up after choosing a pricing plan, proving that people wanted to pay and buffer had a viable market demand.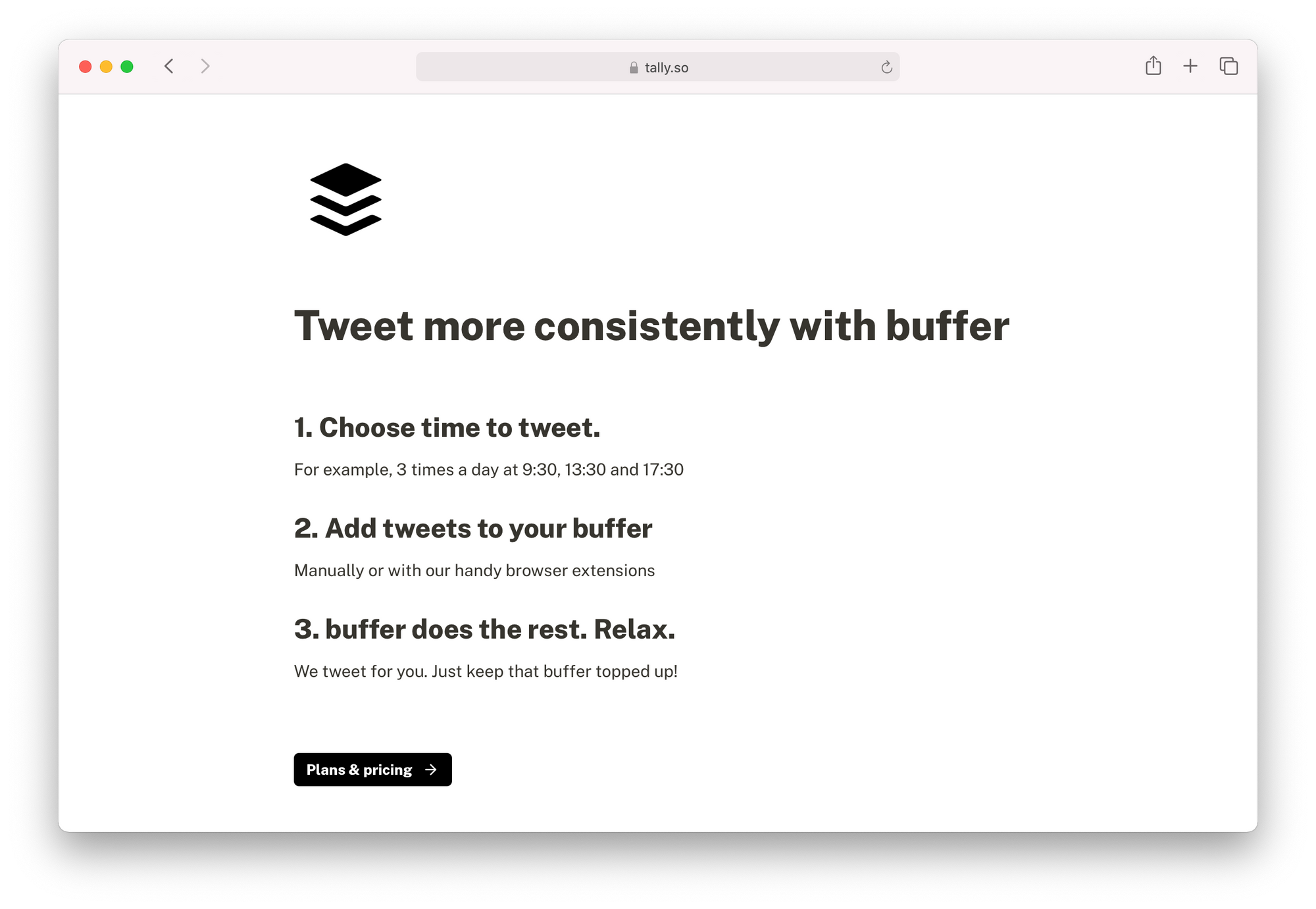 👉 Use this Tally template to create your own Fake Door Test
Pre-order page
Validate the demand and more importantly the willingness to pay by creating a pre-order page with a payment form before delivering the actual product. A pre-order is not only a great way to test the demand for what you want to build, but also to raise funds to produce your idea. If not enough people are prepared to pay, you can decide not to pursue your idea, and refund people.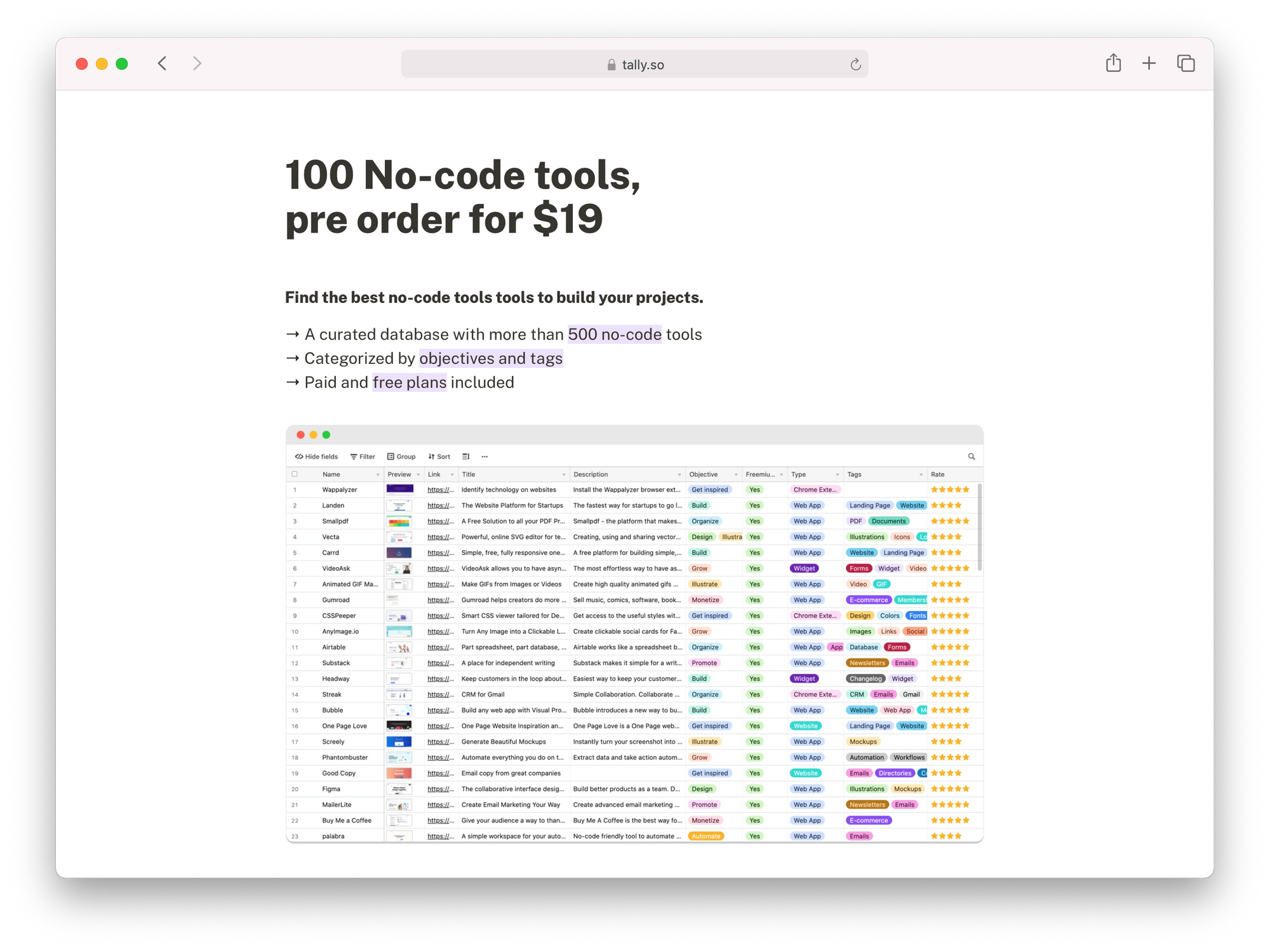 👉 Use this Tally template to create your own pre-order page.
Build your MVP with Tally
In a way, many products are complex forms at heart, and with no-code tools you can bring your product to the market in no time to test your assumptions. So why not use Tally to build the simplest version of your startup idea without a single line of code?
Let's say you want to build a product that helps people save to buy a house.
Use our calculator and conditional logic to create a first version of your product
Link to a standalone form or embed the calculator form in your landing page
Automate the follow up process with our Zapier integration (to send emails for example)
Or maybe you want to build a community first and start a podcast or a newsletter?
We've created a free Notion landing page with embedded Tally forms that will help you with:
Collecting email addresses with a sign-up form
Receiving topic suggestions and display them
Automating sponsorships and payments
Other ideas on how to use Tally to kickstart your idea?
Don't hesitate to reach out! We'd love to hear from you and feature your startup.