Build payment forms in minutes, and collect payments without a single line of code.
Looking for a quick way to validate demand and sell products online? With Tally, you create a payment forms in one-two-three, and easily connect them with your Stripe account.  
+ Easy set up, within minutes
+ Automate pricing calculation
+ Not a single line of code needed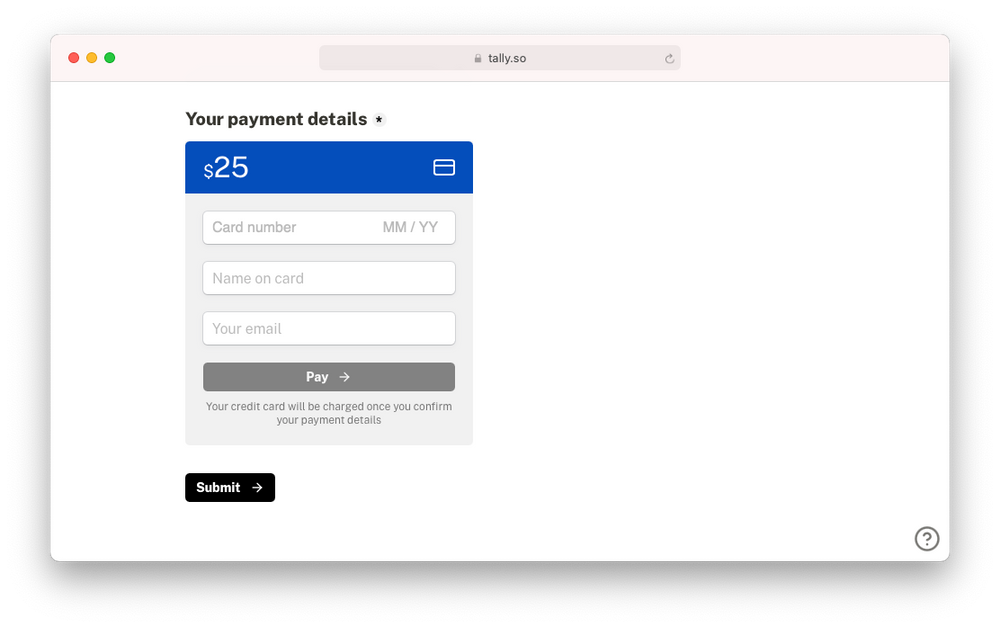 ---
Tally is the simplest way to create forms. Create any type of form in seconds, without knowing how to code, and for free.
---
Payment fees
Tally users can create payment forms on our free plan. Tally takes 5% commission on each payment plus the Stripe transaction fee. A Tally Pro account allows you to skip the 5% Tally commission fee.
| Plan | Pricing |
| --- | --- |
| Free users | 5% + Stripe transaction fee |
| Tally Pro users | 0% + Stripe transaction fee |
Creating a payment form
Click + or type / to open the insert model and choose Payment to insert the payment block.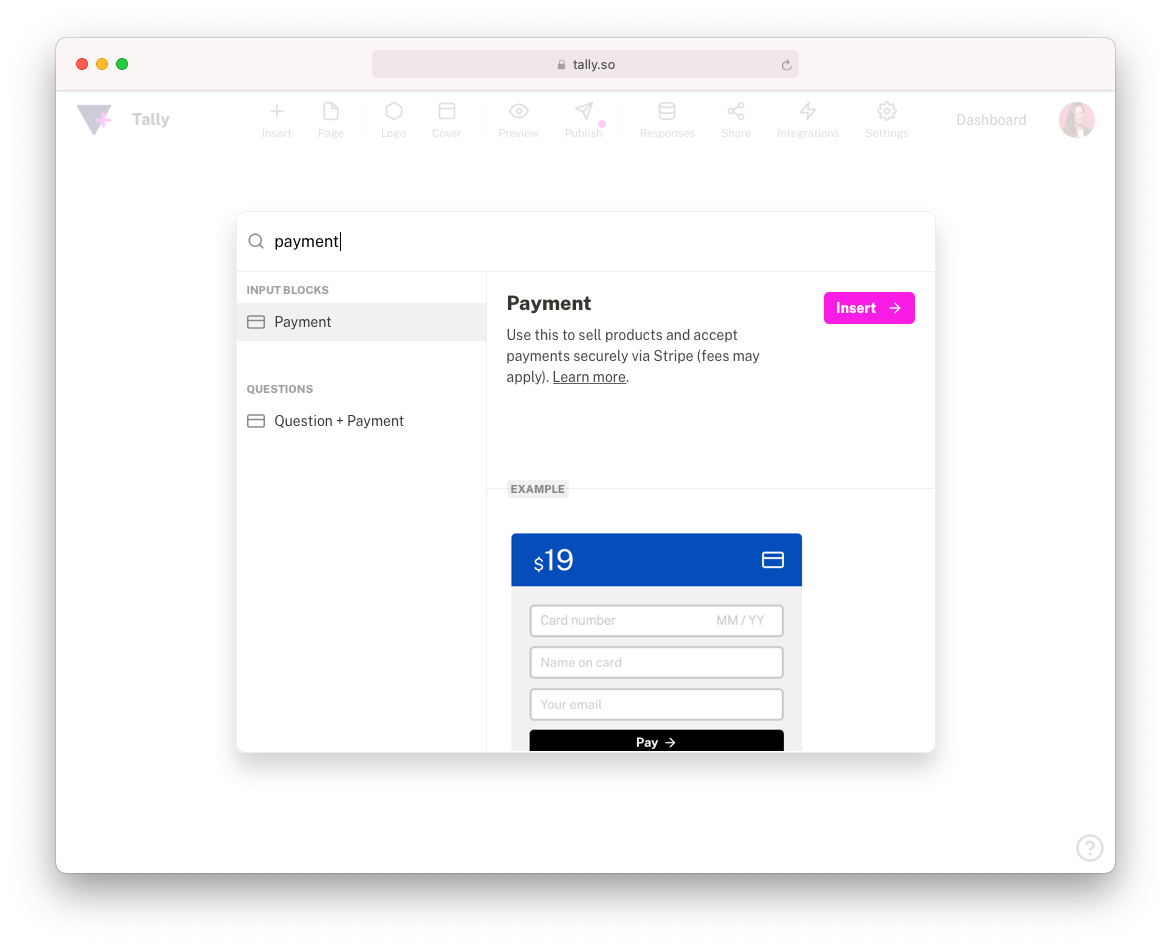 2. Insert the price (or choose a calculated price, or any other variable from the dropdown menu) and currency of your product. If you don't find the currency you're looking for, don't hesitate to contact us.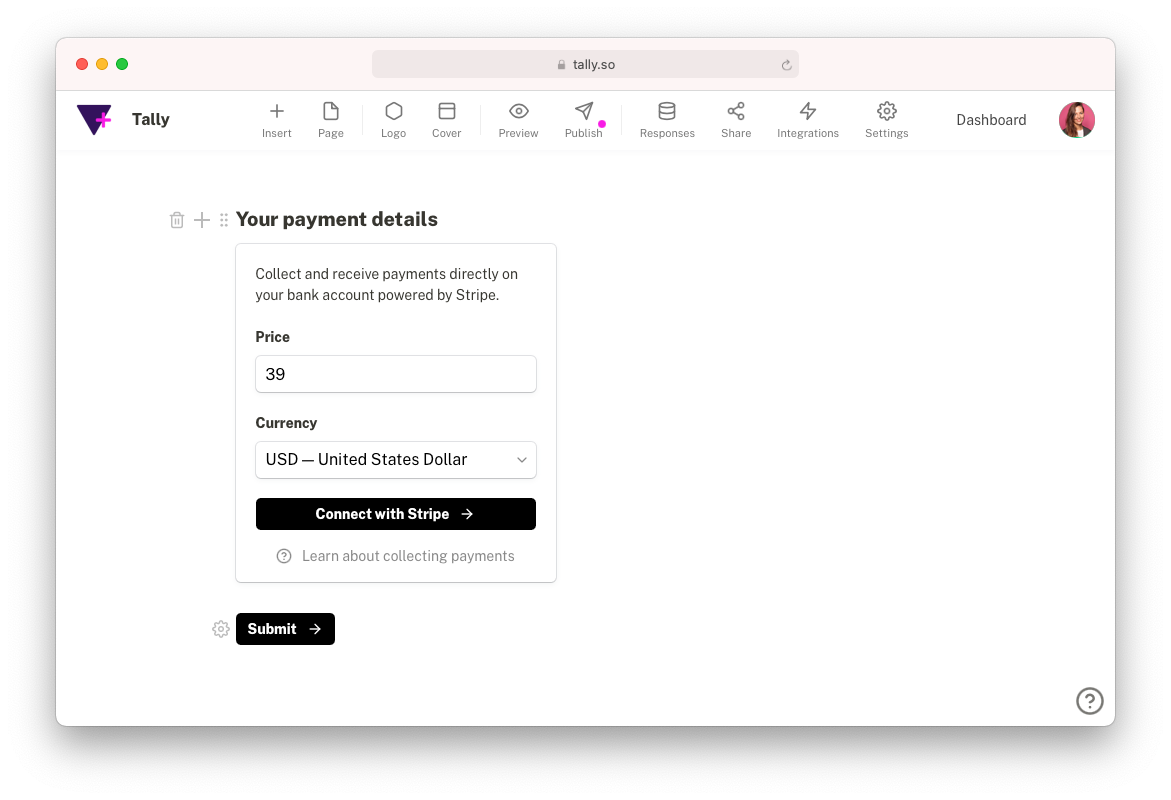 3. Connect with Stripe. If you are new to Stripe you need to create a (free) Stripe account in order to connect your payment form.
4. In your published form your respondents will get to see this view where they can securely pay for your product or service.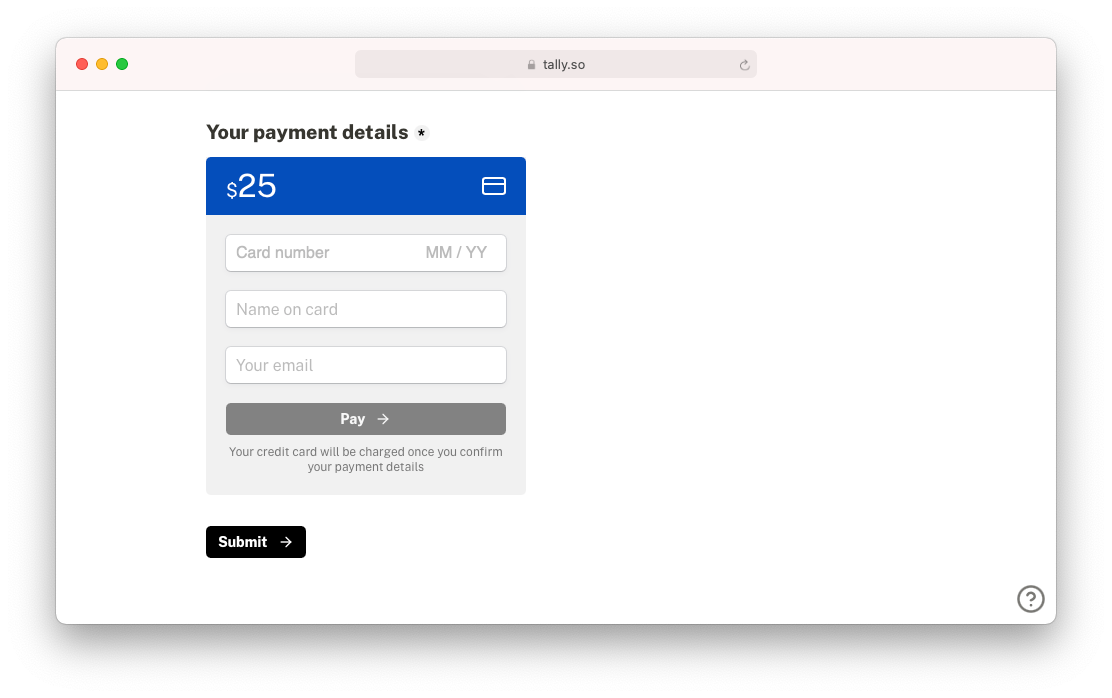 5. Payments are processed if your respondent clicks the 'pay' button in the payment block.
💡 The payment will be saved as well if your respondent doesn't complete the form, but in order not to lose the other form data, we recommend placing your payment as the last question in your form and editing the copy of the submit button, so that respondents don't forget to submit the form.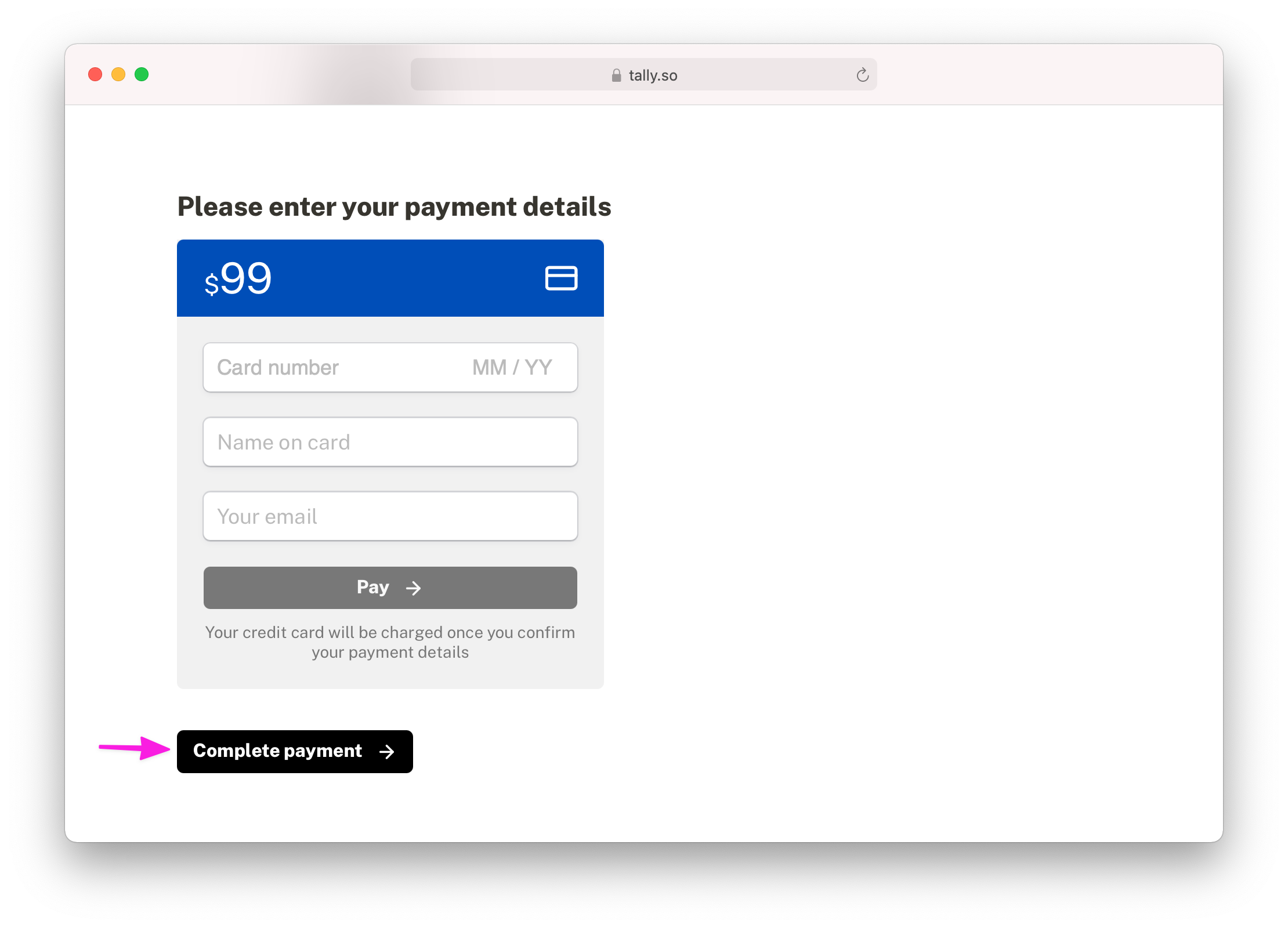 View payments
The payment data can be retrieved in the Summary and the Submissions tab of your form. Credit card details are not stored by Tally.
Go to the Summary tab and click the ↗️ icon to open payments in Stripe.

Calculate the price
With Tally's calculated fields you can calculate a price and update your payment form in real time based on your respondents answers. Think of:
Automatically calculating and updating the price in your payment form
Creating a shopping basket on a checkout page
Calculating shipping costs
→ Read more about how to create calculated fields
Templates and tutorials
Take a look at our tutorials and template gallery for pre-made payment form templates.
| | | |
| --- | --- | --- |
| Template | Simple Checkout Flow | View → |
| Template | Advanced Checkout Flow | View → |
| Template | Sponsorship Form | View → |
| Template | Digital Product Order Form | View → |
| Template | Food order form | View → |
| Tutorial | How to create an e-commerce store with Tally & Notion | View → |
| Tutorial | How to create a checkout flow | View → |