You can share your Tally form or embed it on your website or on Notion.
How it works
You will find the embed options in the Share tab of your published form.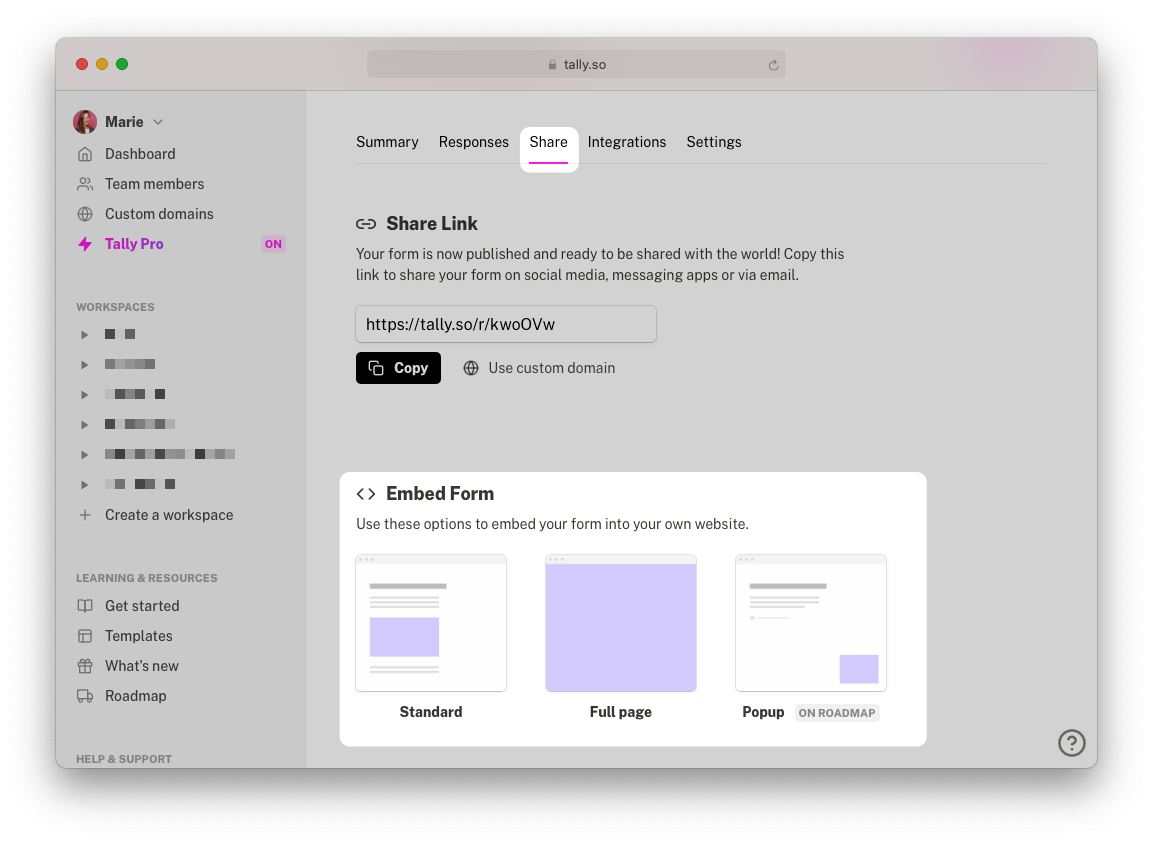 There are 2 types of embed available: Standard (embed your form as part of your web page) and Full page (embed your form as a full-page).
Standard embed
Click Standard and an embed model will open. You can optimize your form before embedding it by adjusting the embed styles:
Hide form title: hide your form title if you don't want to display it on your website
Align content to the left: embedded Tally forms will be displayed in the center of your website by default. Use this option to align the form content on the left of your screen.
Transparent background: remove the default white background to make your form blend into your website.
Form width and height: adjust the width and the height of your form by adjusting the embed code. For example: if you don't want to display your form full screen on your website page, you can adjust the width from 100% (full width) to 50%. The height and the width of the form can be expressed in pixels or percentages.

<iframe src="https://tally.so/embed/kwoOVw?hideTitle=1&alignLeft=1" width="100%" height="500" frameborder="0" marginheight="0" marginwidth="0" title="Startup program"></iframe>
Copy the embed link or the embed code. Past this into your website or web page code to embed.
Changes made to your Tally form (for example: adding or removing questions), after embedding it on your site, will automatically be updated, without having to change the embed code.
Only when you change the embed styles (for example: hiding the form title or making the background transparent) after embedding your form, you have to copy the code again and replace it on your website.
Full page embed
Click full page embed to embed a form that covers the full page of your website. You can hide the form title and make the background transparent by adjusting the embed styles. Full page forms are always embedded in the middle of your website page.
Custom domain embed
If you want to embed a form that is hosted on a custom domain, you need to:
Replace the URL in the embed code or link with the custom domain
Add &embed=1 to the form URL in order to keep the custom styles you've applied.
Old URL: https://tally.so/embed/mO5bpw?hideTitle=1&alignLeft=1

New URL: https://compare.tally.so?hideTitle=1&alignLeft=1&embed=1
Notion embed
You can embed a Tally form in your Notion pages by simply pasting the form embed link. Create an embed and adjust the size by dragging the model.
Notion adds by default a beige background to their embeds (the same color as a standard Notion page). The Tally form background is transparent but if you are using dark mode in Notion you will see the beige background, set by Notion. Unfortunately, it is not possible to modify this via Tally.
Need help?
Visit the Tally Help Center for more information about our features and roadmap, join our Slack Channel for immediate support, or send us an email. We're here to help!