How we use Tally to run our bootstrapped startup
In this post we share how we use Tally to run Tally more efficiently. We threw in our best practices and pre-made templates, ready to be implemented in your startup!

The first time we shared a public Tally form, was to collect addresses for the birth card of our daughter. Fast forward 1,5 years and Tally has become an indispensable tool for running our bootstrapped startup.
We built Tally because we were looking for a simple, yet powerful form builder that doesn't break the bank.  A growing number of makers and startups are using our product to collect feedback and applications, generate leads and sell products online. And of course, so do we!
---
Learn how we use Tally to:
🎁 Templates included!
---
1. Collect feature requests
Collecting feedback and feature requests is crucial to shape your product and prioritize your roadmap. We have embedded feature request forms into our roadmap and our help center. We get email notifications for new form submissions, and sync feature requests to Notion to follow up on them.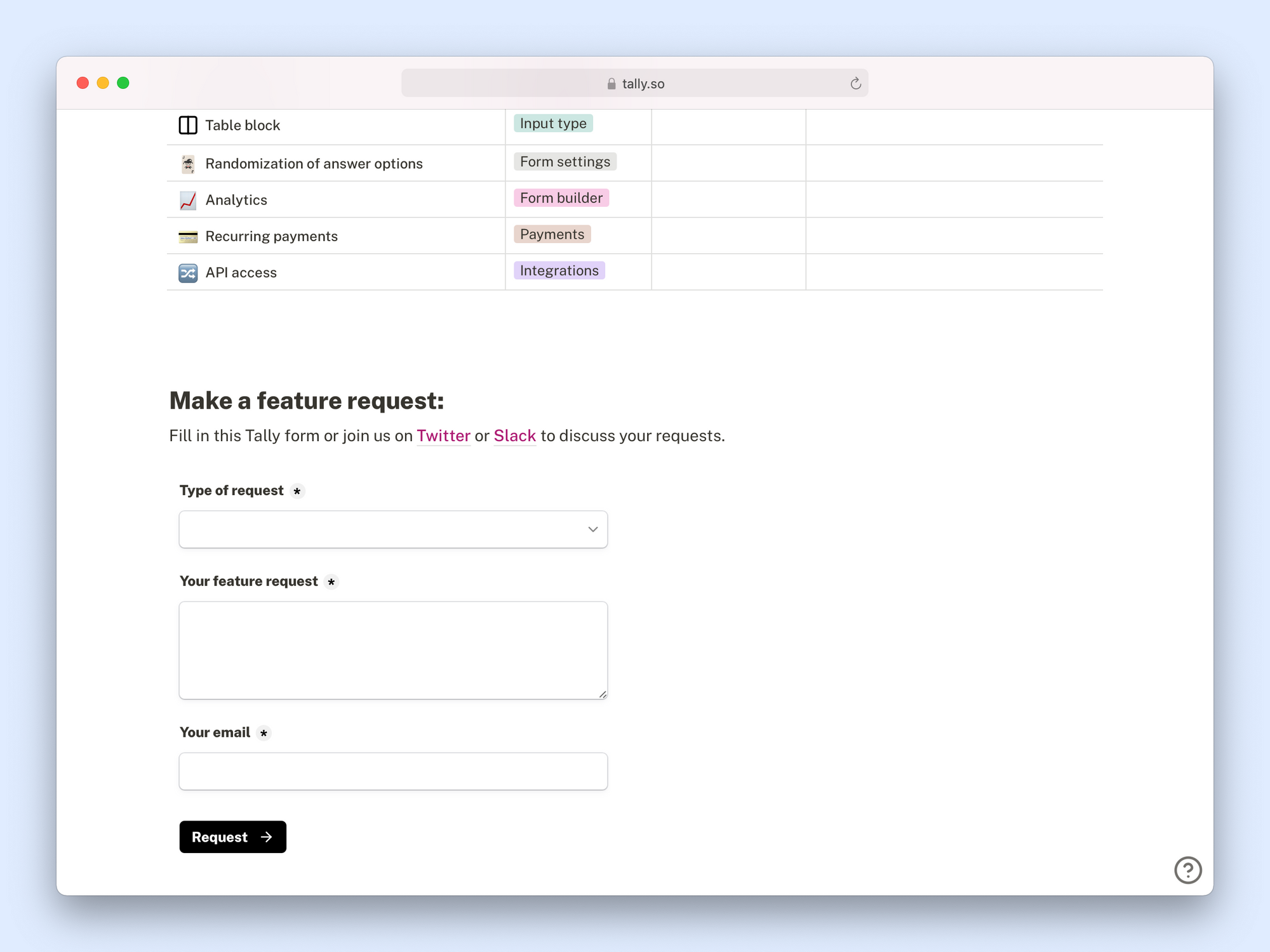 🎁 Feature request form template

2. Survey our Pro users
To learn more about why users upgrade to Tally Pro we created an onboarding survey that is being shown right after subscribing. The data gives us insight into which Pro features provide the most value and why.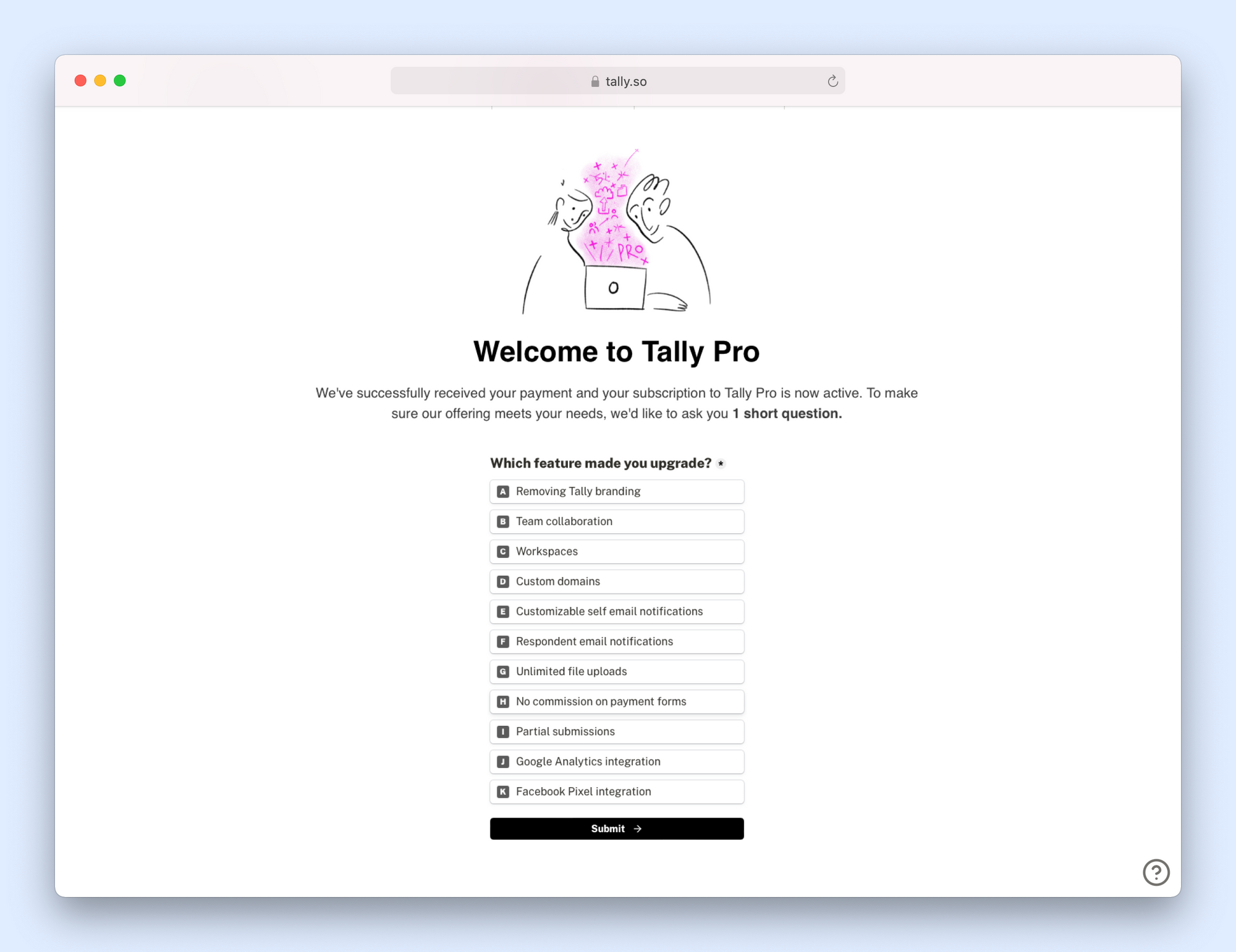 Submissions are being sent to our Slack channel, so we're always up to date and get to know our latest subscribers.

What about a churn survey you might wonder? We're currently using a built-in option within Stripe (our payment provider), but if you're looking for an alternative to survey churned customers you can use the template below.
🎁 Onboarding survey template
🎁 Churn survey template
3. Product Market Fit survey
Just like many founders, we were struggling with the million-dollar question: does Tally have product-market fit? We decided to use Superhuman's product-market fit process to survey our users. Curious about the results? We shared everything we learned in this post.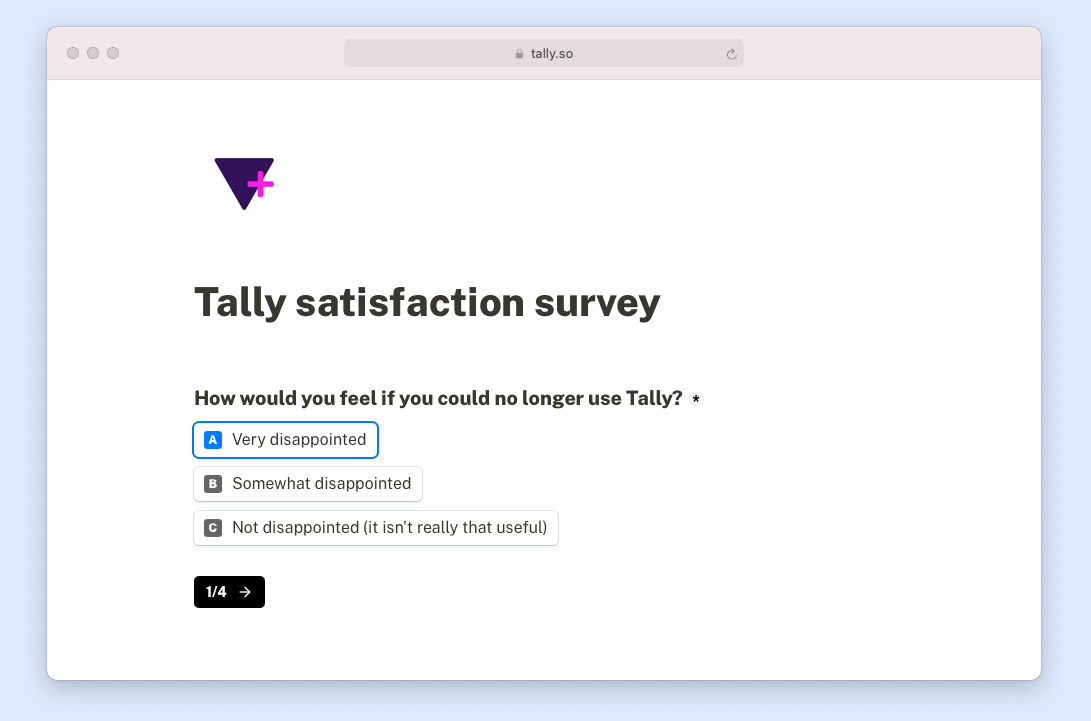 🎁 Product Market Fit survey template
4. Managing discount applications
Tally supports non-profit organizations, students and startups with discounted plans. We collect applications for a discount with embedded Tally forms in our help center and get automated email notifications when someone applies.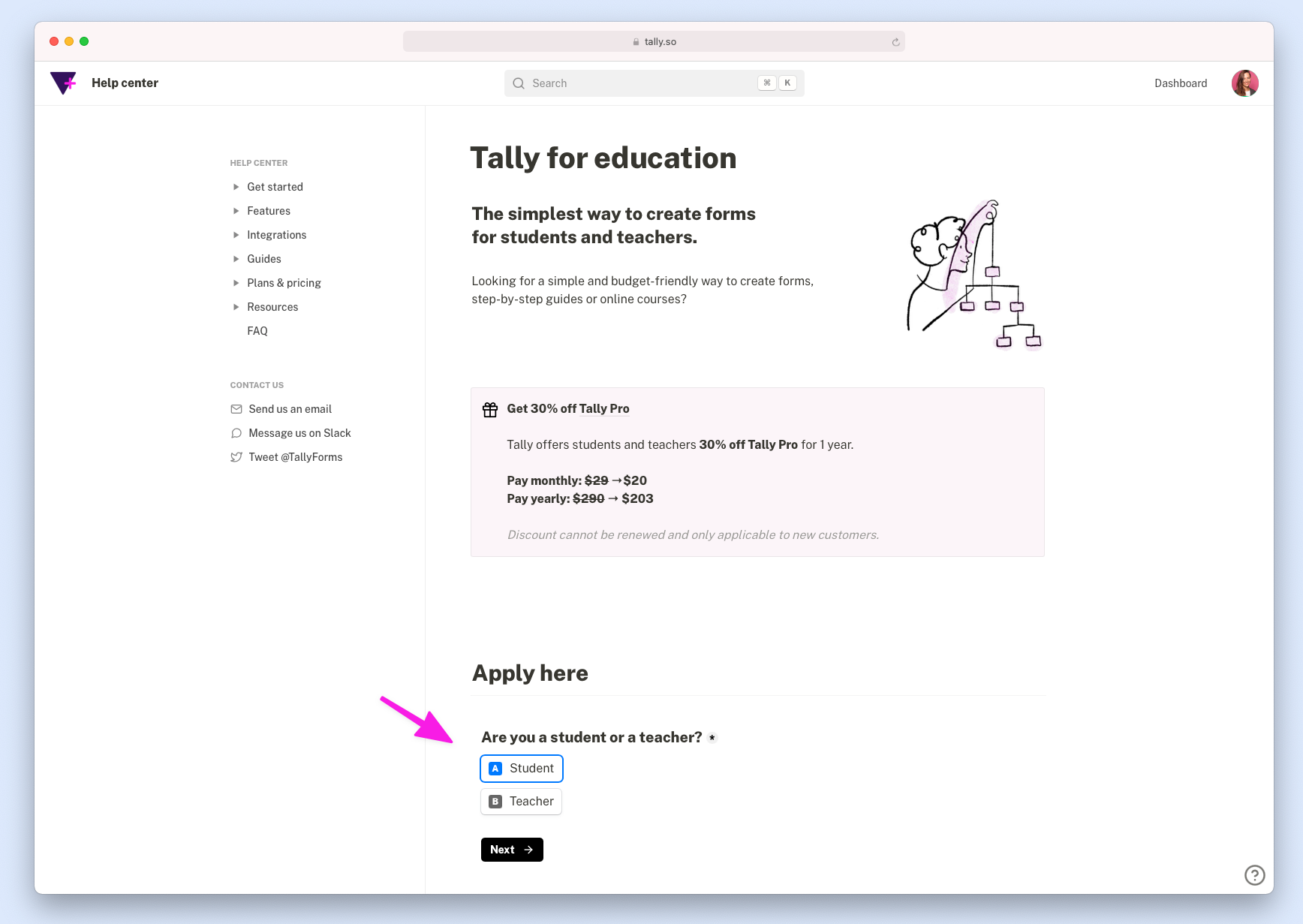 5. Affiliate program
Our affiliate program is still small-scale, so we decided to keep it simple and manage it with Tally for the time being. We created a simple form that allows you to create an affiliate link and we use answer piping so our affiliate partners can preview their link.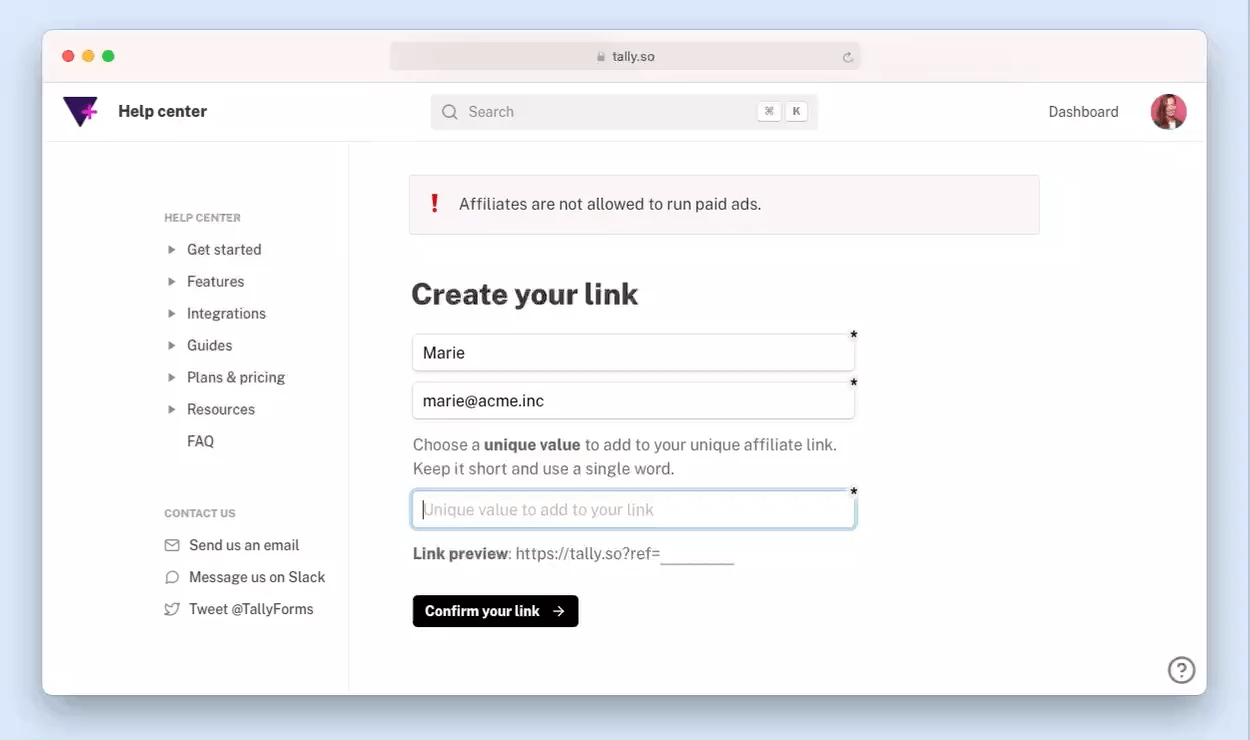 I feel obliged to say that this is not a scalable approach 😅 and the form is only used to collect applications. We'll be upgrading to a dedicated affiliate software once the scale of the program justifies the cost.
6. Product translations
We're a small team of 2, so when people offer to help, we take it! Since Tally forms support multiple languages, several users offered to help translate. We created a form containing every string that needs translation and now anyone can submit a new language. We use our Google Sheet integration to send the data to a Google sheet, and then convert it to JSON, to use in our code.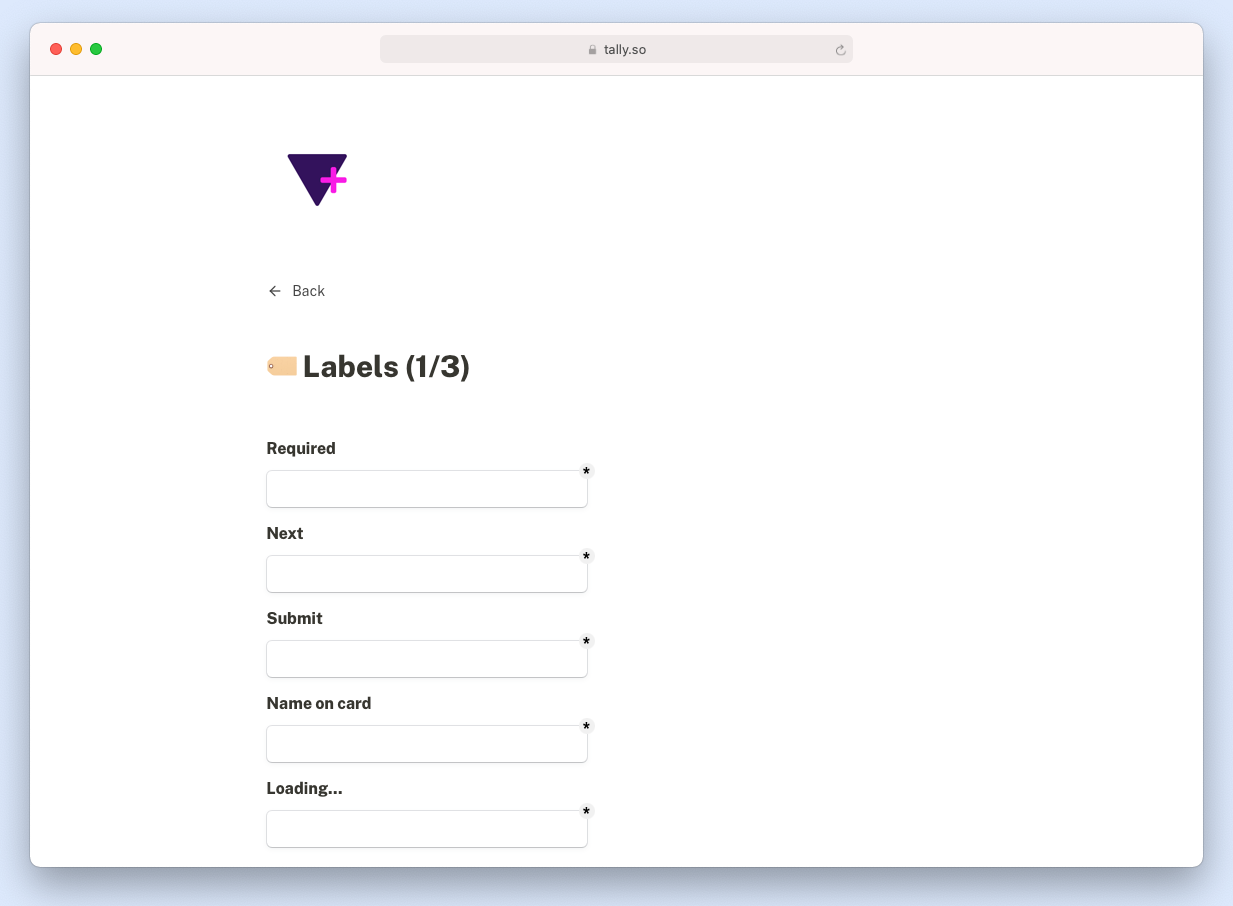 7. Interactive comparison tool
Comparison pages are a great way to help your prospects compare your product to its alternatives. That's why, we created an interactive comparison tool, 100% built with Tally, and connected to a custom domain.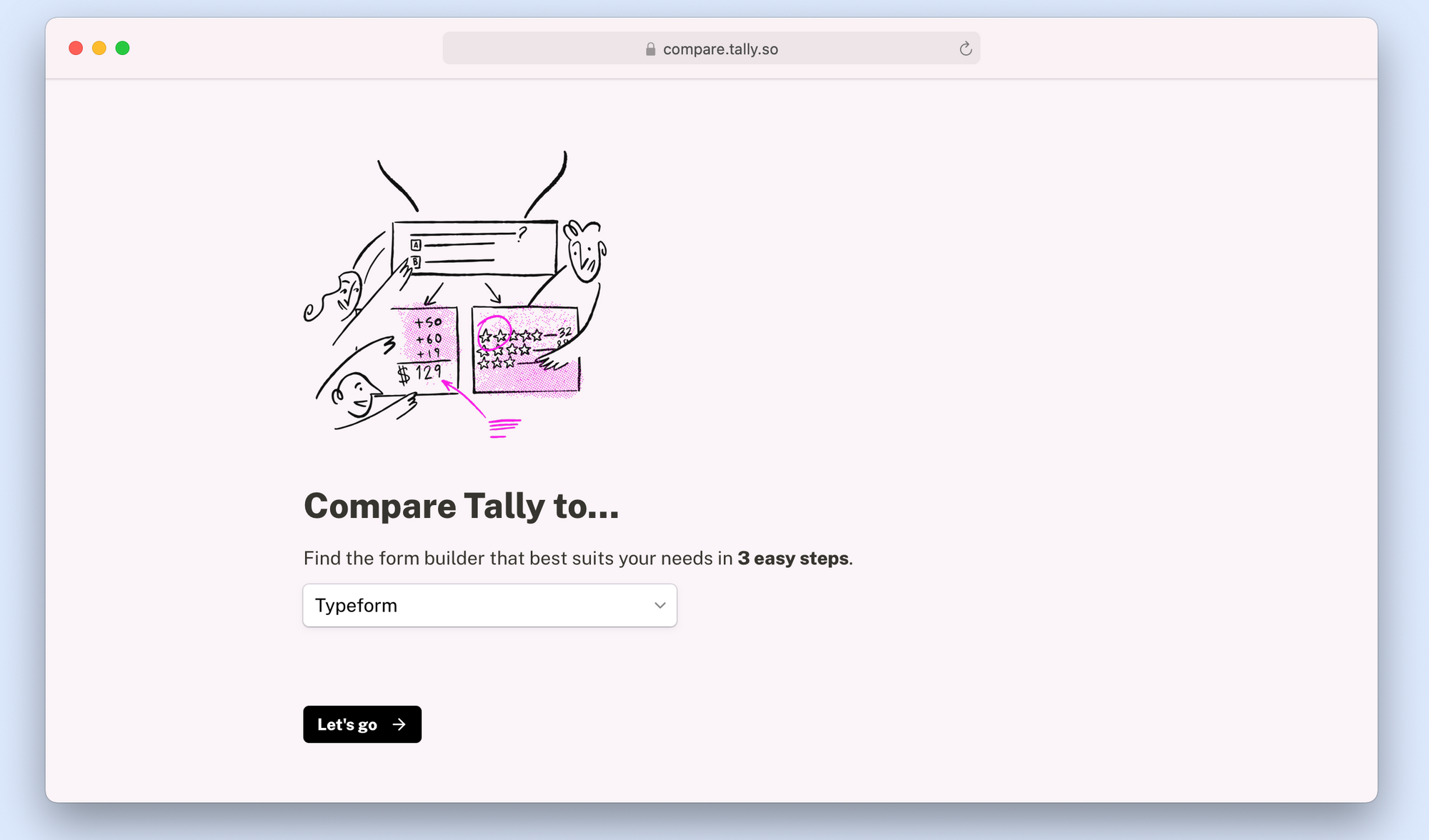 🎁 Follow this guide to create your own
8. Waiting lists
When we launch new features we share a simple form for users to register and get access to features in beta.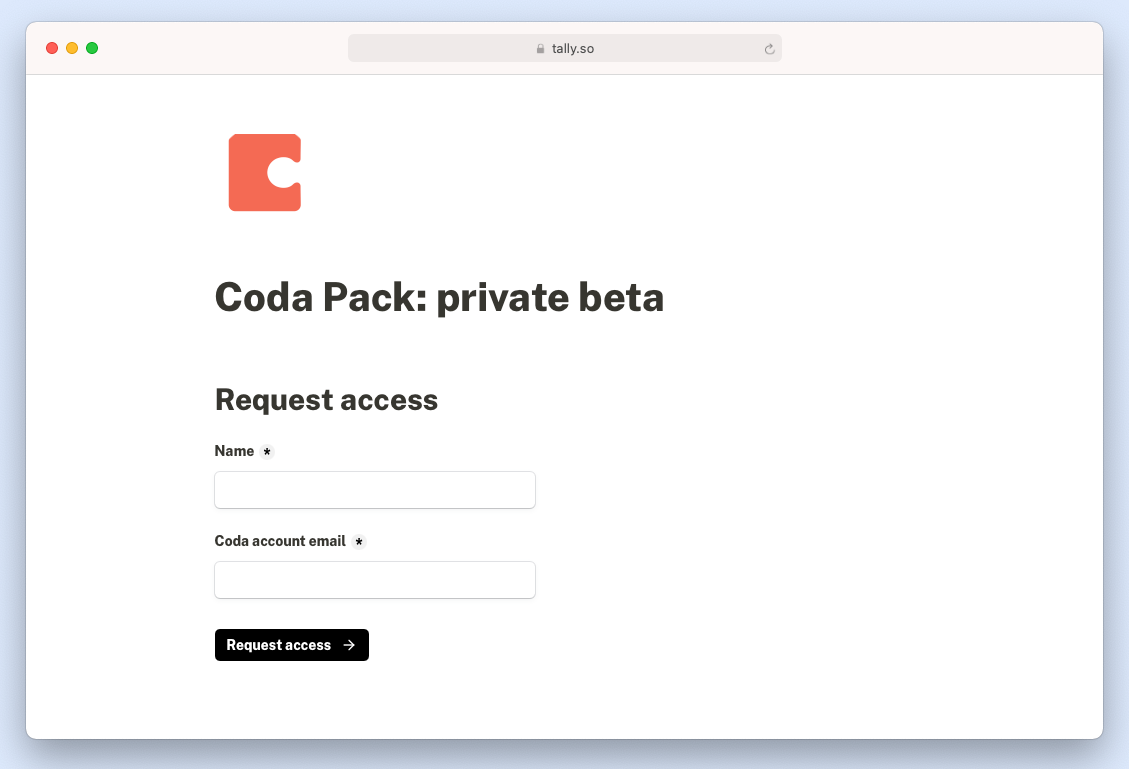 9. Showcase applications
Our showcase page is built with Notion and Super. We added a popup form to collect applications from users to get featured.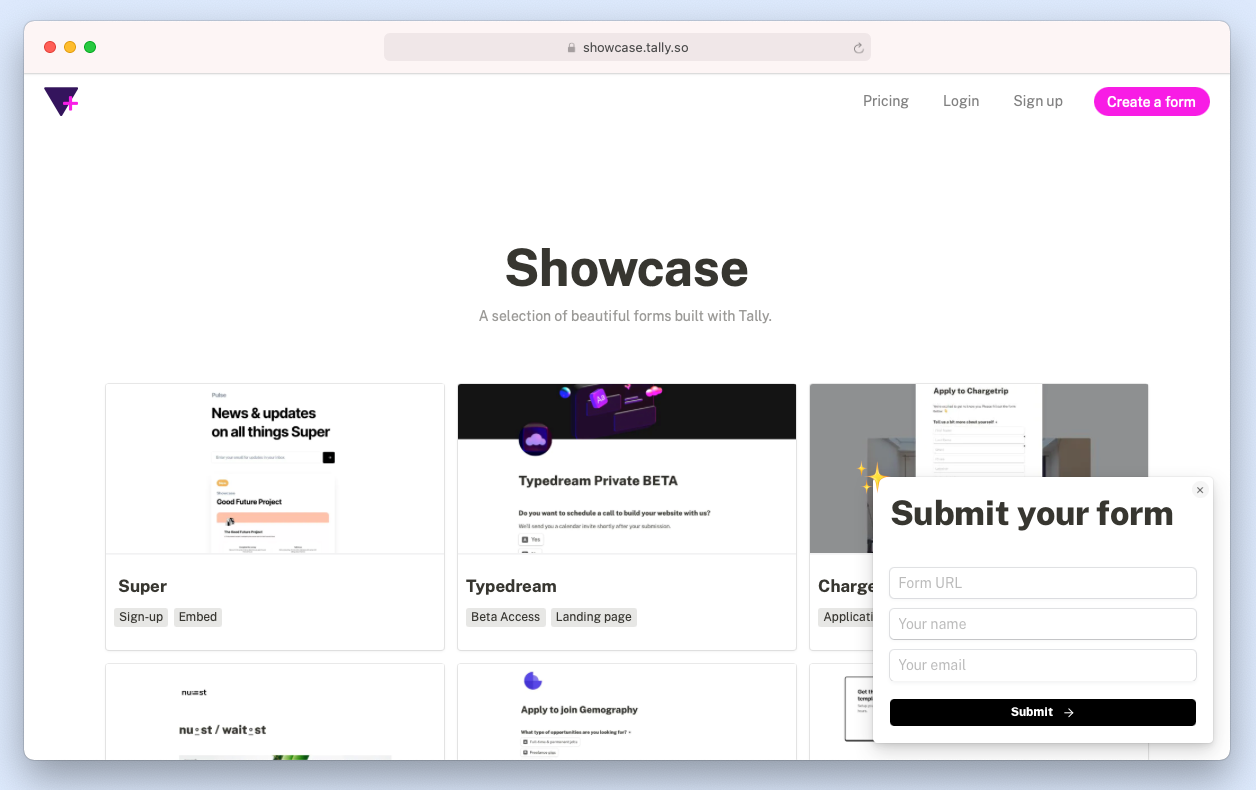 🎁 How to add a popup form to a Notion page
10. Personal portfolio website
Filip used Tally to create his personal website. This page is a Tally form connected to a custom domain and customized with code injection.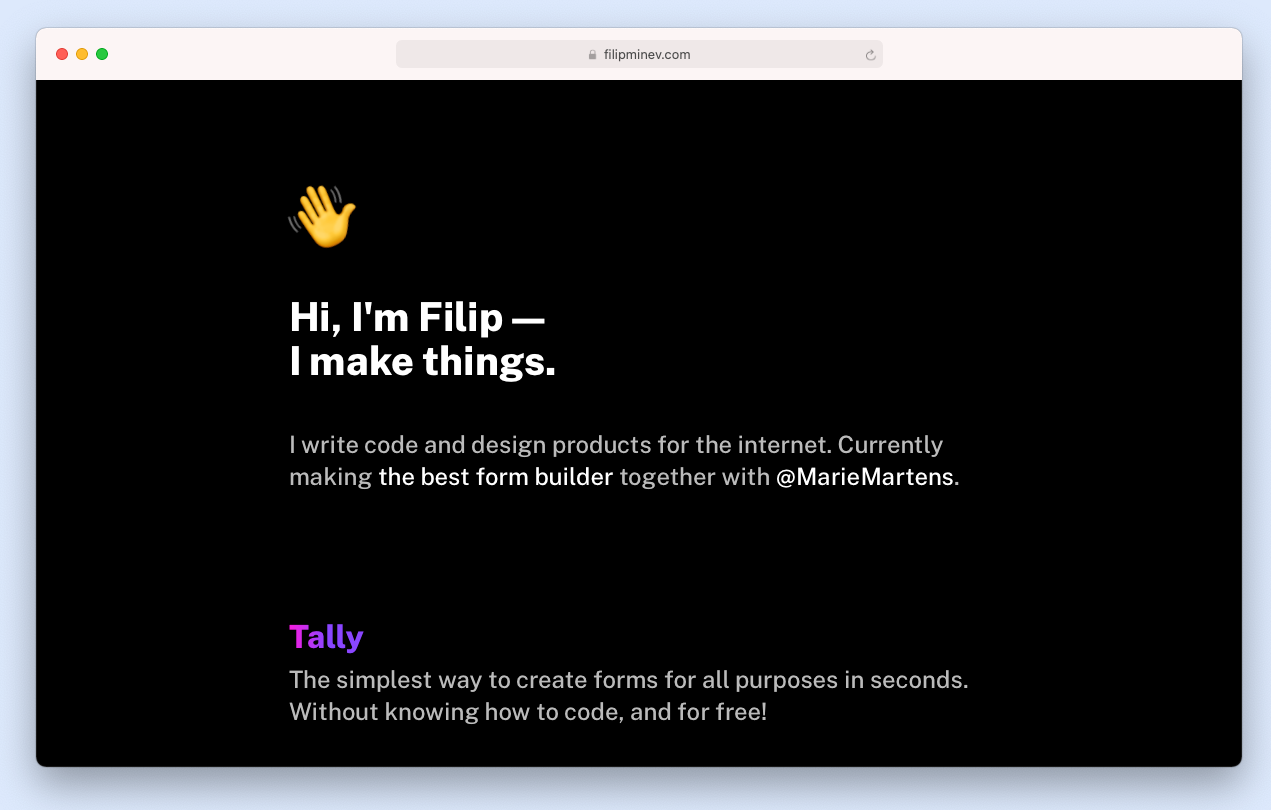 This is how we use at Tally use Tally, we hope you found value in this post. We'll make sure to update it regularly, and would love to hear how Tally fits into your workflow!