How to measure your Product-Market Fit
Finding Product-Market Fit is a crucial factor in a startup's success or failure. We created a free form template to help you measure your Product-Market Fit.
"Finding Product-Market Fit is the only thing that matters, and a crucial factor in a startup's success or failure. When you reach it customers are knocking down your door to get the product; the main goal is to actually answer the phone and respond to all the emails from people who want to buy".
These famous words by Marc Andreessen have kept a lot of founders, including Filip and me up at night.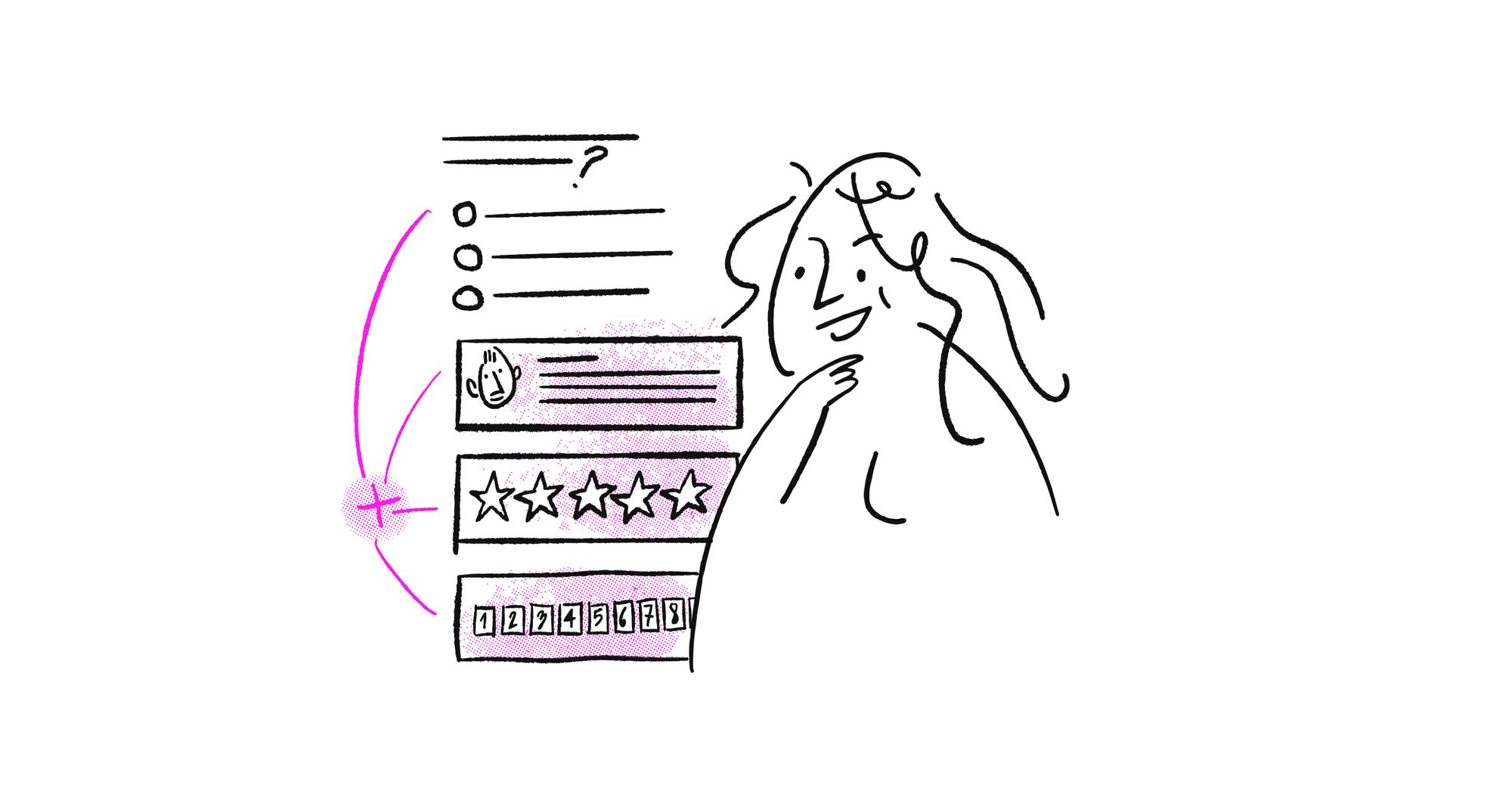 When we launched Tally we knew we were entering a very competitive market. Every business needs a form at one point and at their core, a lot of products are complex forms. So the demand is definitely there.
But is there room for another player in this crowded space? We launched our MVP one year ago (September 2020), and we just reached 8.000 users. To differentiate ourselves, we chose to offer unlimited forms, responses, and most features and integrations for free.
So how do we make money? Our business model is based on one simple Pro plan (at $29/month or $290/year) with a set of empowering features for teams and creators. At this moment we have 100 Tally Pro users, which results in $2.4K MRR. But what does this mean? And will we be able to keep up our growth?
Just like many founders, we were struggling with the million-dollar question: Does Tally have product-market fit?
We decided to use Superhuman's product-market fit proces based on Sean Ellis' findings (early growth at Dropbox, LogMeIn, and Eventbrite —  who coined the term "growth hacker"):
Just ask a user "how would you feel if you could no longer use the product?" and measure the percent who answer "very disappointed." They will unlock product/market fit.
Sean Ellis created a customer development survey and developed a benchmark of 40%. The idea behind this magical number is that companies that struggle to grow almost always had less than 40% of users respond "very disappointed".
We created a Tally survey and asked our users for feedback. When we reached 100 responses, we deep-dived into the data and are sharing the results and our learnings here.
→ Use our template to measure your PMF
1. How would you feel if you could no longer use Tally?
At the time of publishing this post, we received 115 responses to our survey and 57% of our users said to be very disappointed if they could no longer use Tally. We were extremely happy to see that we passed the 40% benchmark, but it's still just a number. The answers to the following questions in the survey have brought us a lot more insights.

2. What type of people do you think would most benefit from Tally?
The answers to this question gave us a clear profile of our ideal customers:
SMB founders, Startups, and creators who value good design (UX/UI), and are looking for an easy way to create forms with a small budget, in order to start their business, validate ideas, gather customer feedback, perform market research or sell products.
| | |
| --- | --- |
| 1. SMB Owners & Startup founders | 6. Educators & teachers |
| 2. Entrepreneurs & makers | 7. Indie Hackers |
| 3. Students | 8. Notion users |
| 4. Marketers | 9. Product Managers |
| 5. Non-profits | 10. No-code freelancers |
We will rework the messaging on our website and focus on this customer profile in our content creation. We also launched a Startup and Student/Non-profit Program to attract students, teachers, and non-profits.

3. How can we improve Tally for you?
The most interesting part to us was how we can improve Tally for our users. We get a lot of user feedback, so most suggestions were not new, but the feedback definitely helped to (re)prioritize our roadmap. Here's a summary of the most requested improvements:
Analytics & reporting: a more visual way to present the form results, and analytics to learn more about open and response rates.
Customization: more form customization options such as a color picker, custom fonts, color themes, and the possibility to add columns in a form and work in a grid.
Integrations: improving our Google Sheets and Notion integration, adding webhooks, and opening up our API.
More payment options such as PayPal (at this moment we only offer payment forms with Stripe)
Onboarding: Tally works like a text doc, you can just start typing and insert blocks with shortcuts. This is a completely new way of form building for users who are used to the drag-and-drop method. It also makes the form builder very flexible but also confusing to some new users. Users have requested more templates and ways to see how other people use Tally.
UX improvements: allowing to group blocks and adding Undo functionality.
Embed options: the ability to embed video in forms and a modal window embed.
We processed all feedback and updated our roadmap accordingly. We are working on webhooks as we speak and our next big release will be focused on customization. We've started with expanding our template gallery and sharing more use cases we started with featuring Tally users on our blog and monthly newsletter.
4. What is the main benefit you receive from Tally?
When creating a word cloud it became clear that Free, simple, and easy to use are the main reasons why our users love Tally.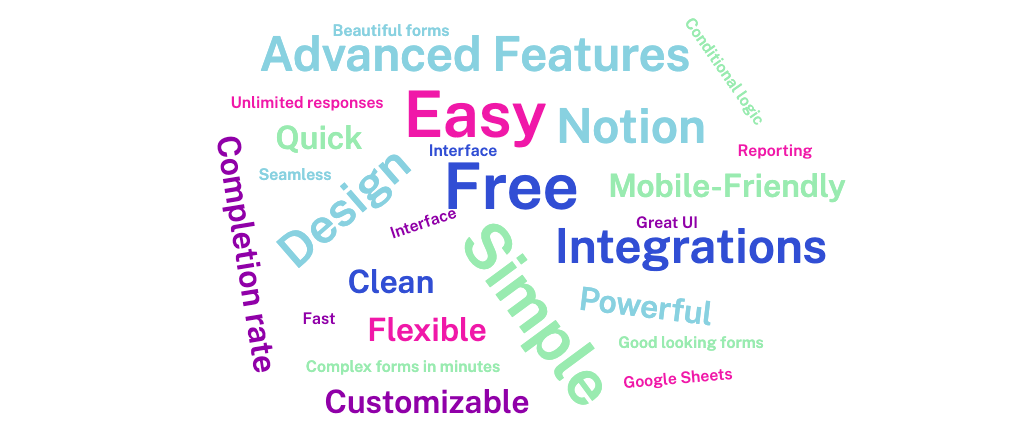 Tally is referred to as a versatile form builder that integrates well with other tools. It's easy to use with a simple and intuitive interface. Creating custom forms with complex logic in a matter of minutes
Tally is affordable and beautiful
I can easily build clean, good-looking surveys and accesible forms
I can create custom forms with complex logic in a matter of minutes
While analyzing the results of this survey we noticed that people often refer to 'Notion centric users' and the similarities to the Notion UI as a big plus. We're big fans of Notion and while building Tally we were definitely inspired by the block building approach. But we didn't realize how big the impact would be on building a form builder that works like a text document.
For me and my company specifically, the similarities to the Notion UI were a MAJOR selling point. It meant my team didn't have to go through much training to understand how to use it, since we already use Notion internally for our company intranet and webpages.
5. How did you discover Tally?
No big surprises here. From the start we have been focussing on engaging in no-code and founder communities, answering questions on forums, and sharing our journey on Twitter and Indie Hackers.
Talking to (potential) users on Slack, Twitter or any other channel results in positive word of mouth and is something that doesn't scale, but will definitely remain crucial for Tally's growth.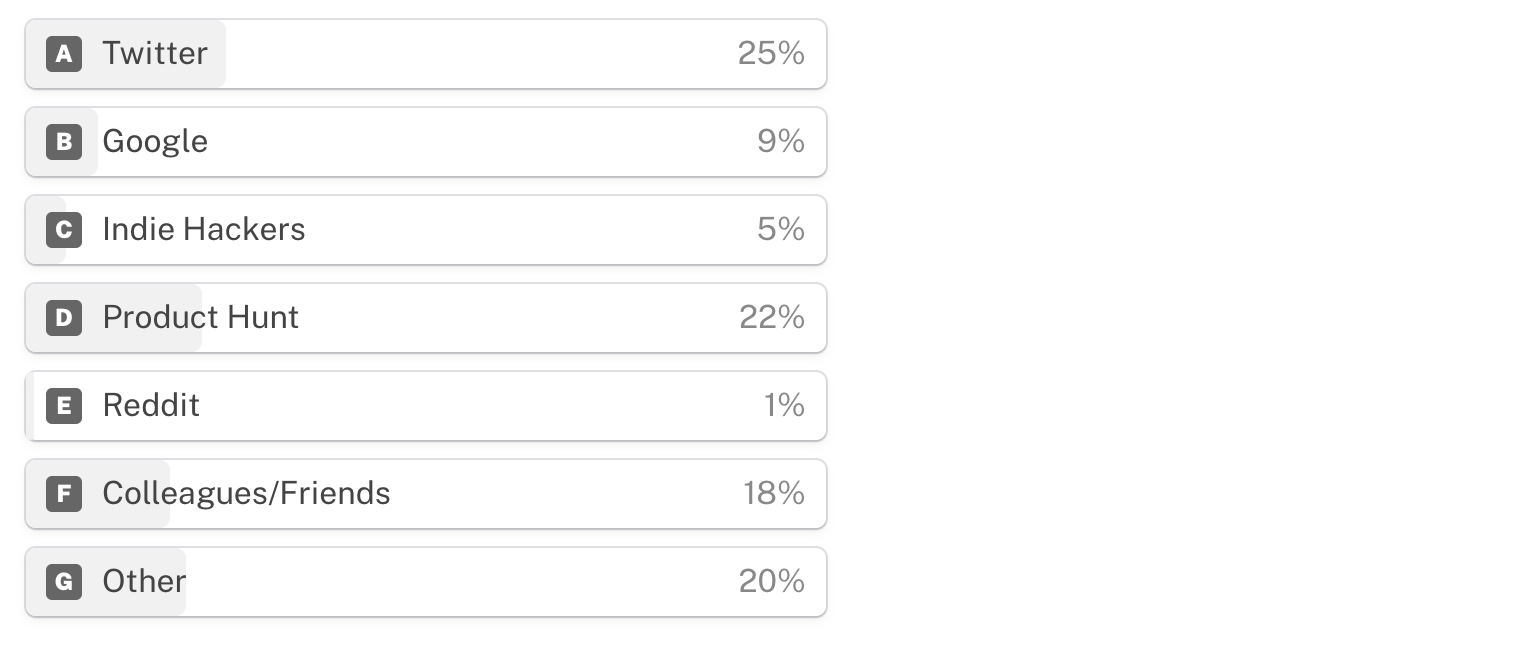 Our Product Hunt launch in March '21 definitely gave us a big push and is still an active lead source. That's why we're planning to launch Tally 2.0 on Product Hunt by the end of this year. We will also be investing more time in SEO to grow our organic traffic in the longer term.
6. What would you likely use as an alternative if Tally were no longer available?
Typeform and Google Forms are the most mentioned alternatives to Tally. We have created comparison pages with both tools and have noticed an increase in visits on those pages as well.
It's interesting to see that 10% does not see an alternative for Tally with the same features and at the same price point. This might validate our choice to go for a different type of business model than our competitors.
We're quite flattered to be compared with the giants in the list below, whom we respect deeply. It definitely gives us the energy to keep on going. I'm so proud of the product that Filip (my technical co-founder and partner) has built, and I can't wait to see what the future holds for us 💪🏻.
| | |
| --- | --- |
| 1. Google Forms | 6. Chilipepper |
| 2. Typeform | 7. Cognito Forms |
| 3. No alternative | 8. Survey Monkey |
| 4. Jotform | 9. Tripetto |
| 5. Airtable forms | 10. Self-hosted solution |
That's it for our Product Market Fit survey, I hope our learnings were valuable to you!
If you're a startup founder and you want to measure your Product-Market Fit, you can find the survey template in our gallery and feel free to reach out on Twitter or drop me an email at marie@tally.so.
---
Tally is the simplest way to create forms for free. Create any type of form in seconds, without knowing how to code, and for free.
---