How we bootstrapped Tally to $10k MRR
A look at the 3 tactics that help us grow Tally.
We started building Tally in the summer of 2020 and launched on Product Hunt in March 2021. The past 1,5 year has been eventful to say the least, but last month marks the biggest accomplishment in the short history of Tally: we reached 20.000 users and passed $10k MRR.  
Hitting a 5-figure MRR is an important milestone for us, because it allows us to have a sustainable income for our family of 3, while building a product we love.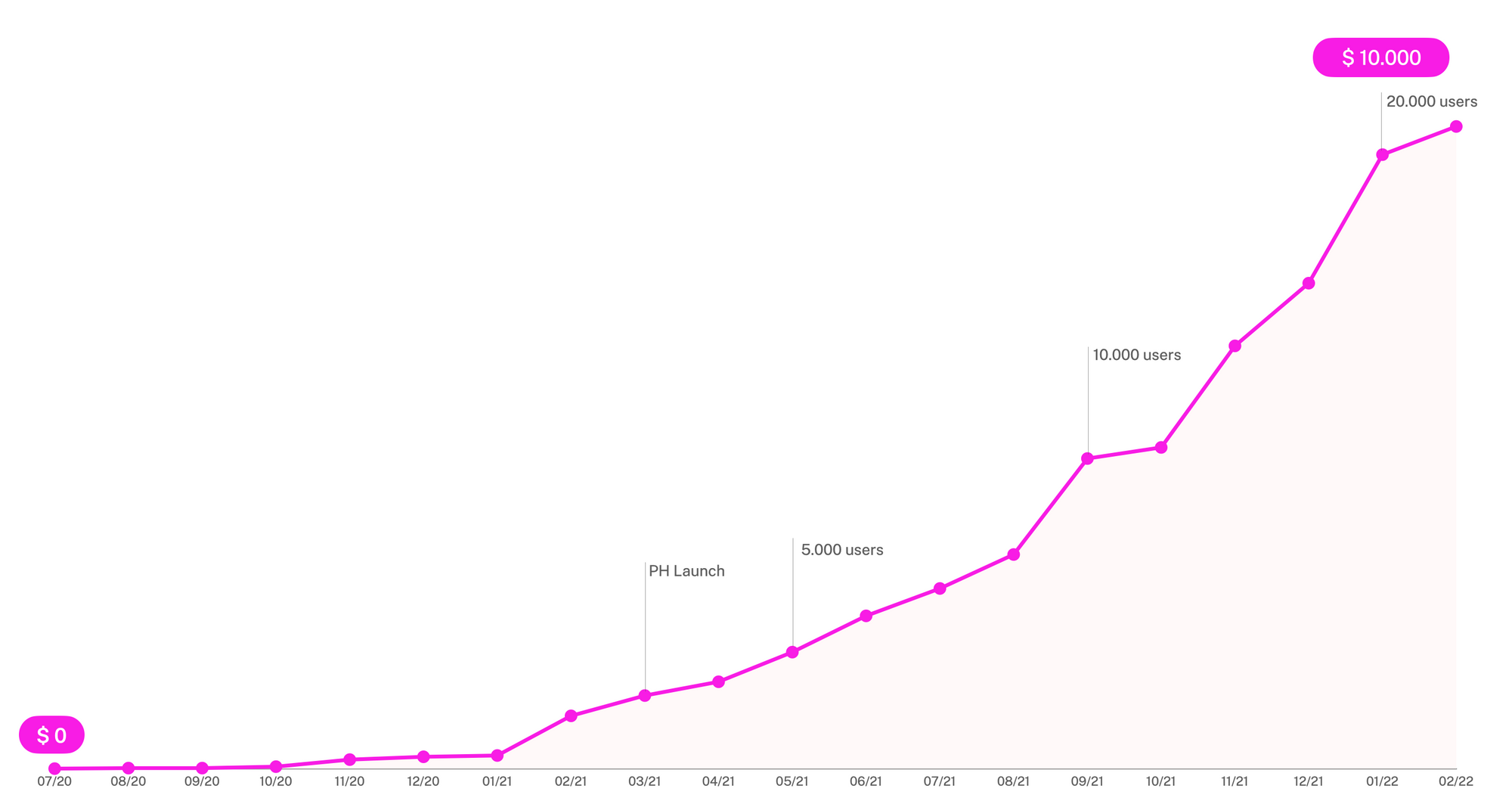 Now, you might think what's next? We are bootstrapping because we want to be independent and grow at our own pace. This also means that for the foreseeable future it'll be just the two of us. So the question on our minds right now is: How do we successfully grow Tally while keeping our team small and our processes lean?
The good thing about bootstrapping is that it comes with inherent constraints. In order to not spread ourselves too thin, we will double down on what brought us here instead of taking on new challenges. But, within the boundaries of our own capabilities, time and resources.
These are the 3 most important principles that help us grow Tally.
1. Tally is free
As makers and frequent form users, we were unsatisfied with the existing form building tools out there. They either force you in a specific format or bombard you with countless limits and paywalls. We wanted a simple, yet powerful form builder that allows you to create any type of form without breaking the bank. That's the reason why we started building Tally in the summer of 2020.
We entered a very competitive market, without the budgets and resources of the big boys. So in order to steal users from incumbents like Google and Typeform, we needed to position ourselves differently.
We decided to offer unlimited forms and responses for free, as well as 99% of our form building features. Because Tally is free, our product has become our biggest marketing channel.
This is how our growth flywheel works:
Offering Tally for free lowers the barrier for people to try it out, and creates positive word of mouth.
Free users have a 'Made with Tally' badge on their forms, which turns our users into our biggest promotors and most important lead source.
About 3% of our free users upgrade to Tally Pro, which is how we make money.
Free customers make our flywheel spin, and the faster it spins (meaning the more free users we can attract), the faster we can grow our MRR.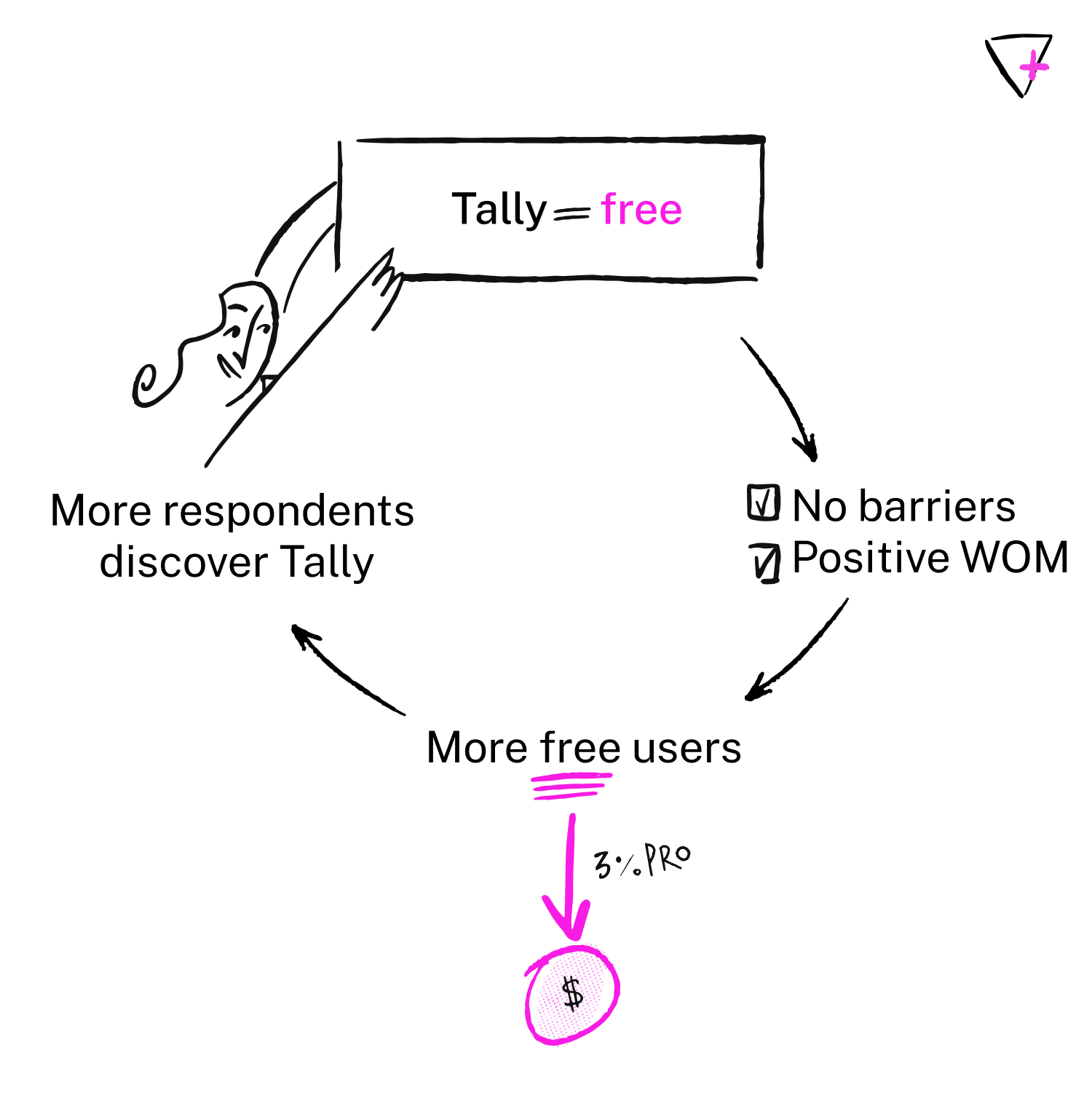 2. Tally is simple
We ship new features regularly, but as we add more functionality we also want to keep the product accessible and easy-to-use. Creating forms with Tally should be fun and effortless, so whenever we add a new feature we try to prioritize the ease of use over everything else.
Keeping the product's focus narrow, creates a natural limit to its complexity, and also reduces the amount of support overhead. Sounds like a win-win, but as everything, it's easier said than done. Especially with a constant flow of feedback and feature requests coming in everyday. That's why, when roadmap planning gets tough, we also consider the effort versus the outcome. When launching something new the outcome (what percentage will actually use the feature and will it make us grow?) always needs to balance out the effort (is it something we can ship in minutes, hours, days or weeks?). This also means we need to say no a lot. Which is not fun, but we hope our users understand!
3. We are Tally
Whether it's replying to Slack messages, emails or Twitter DM's, we are always talking to our users. When people reach out, they often expect to get an automated answer. But when they realize there's an actual person answering on a Sunday evening, and that person happens to be a co-founder, the conversation suddenly becomes personal and you get credit for that.
Providing personal support to users is a crucial part of our growth, and there's definitely a lot of room for improvement on this front. Our goal is not to answer the same questions twice, which means we had to work on our onboarding and documentation.
We rebuilt our help center from the ground up and worked on improving our documentation, information architecture and search. After trying out several tools, we decided to use Notion as a CMS and built our own layer on top of it.
The next step will be to add more contextual tooltips in the product, and a public upvoting tool with feature requests.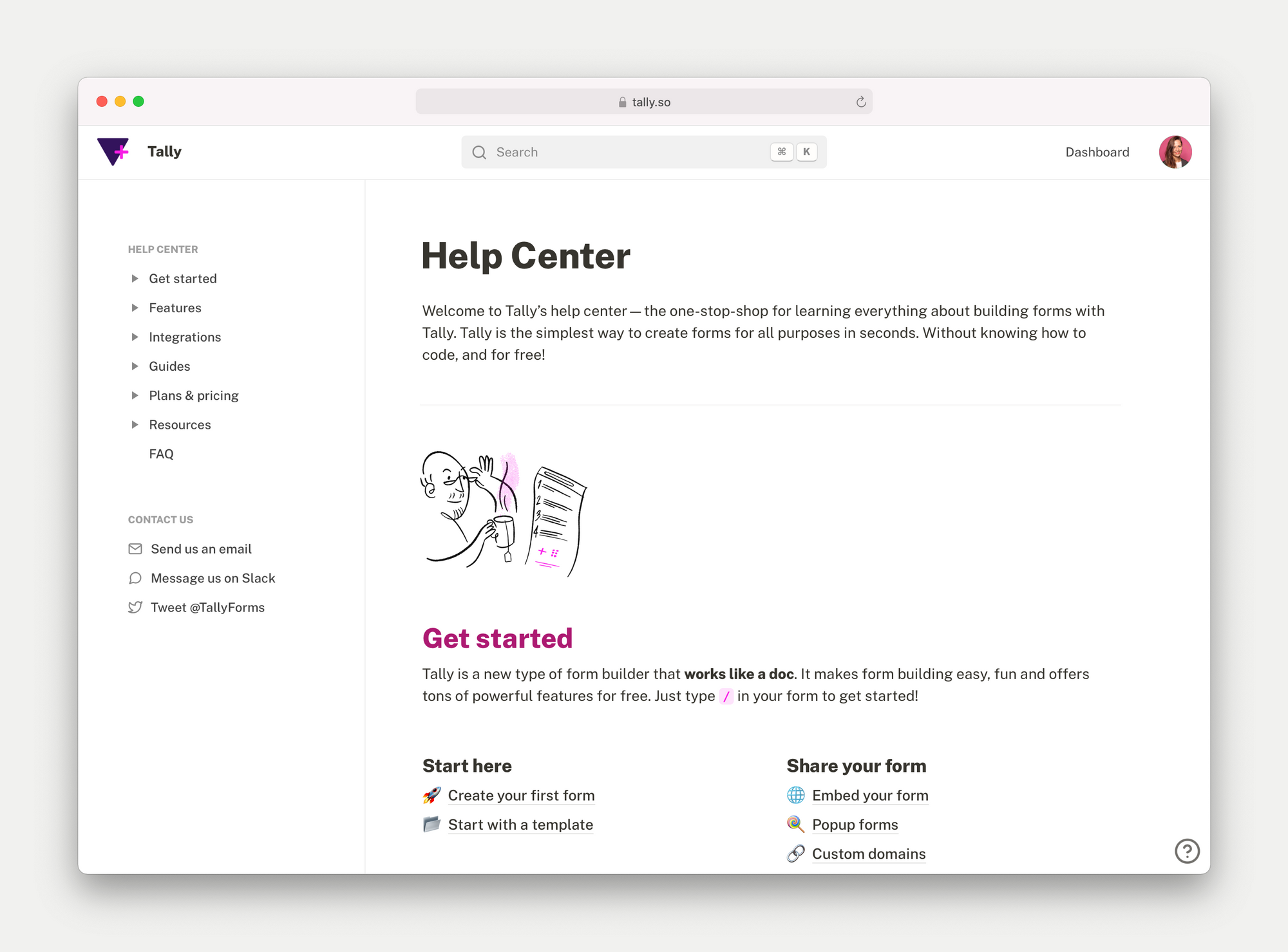 Check out Filip's thread if you're interested in the tech side of this project.
Next to our focus on personal support, we've been sharing our journey since we launched on Twitter, Indie Hackers and Reddit. Building in public on these channels have been an incredible source of feedback, support and growth, and will continue to be our main marketing channels for Tally.
To improve our building in public journey, we revamped this blog and will be sharing more of what goes on behind the scenes at Tally.
Looking forward
Keeping Tally free, open and simple is what got us this far and we're confident that these 3 principles will help us make the right decisions as we're entering the next phase of growth.
We're in this for the long run, so we also decided to fully focus on Tally, and had to goodbye to our first startup.
In 2019, we launched Hotspot, a marketplace for hotels and travel influencers, but when COVID hit we quickly lost half of our clients. A couple of sleepless months later we decided to pivot, and Tally was born. Hotspot has been in maintenance mode ever since, and after 2 years we decided to pull the trigger.
We couldn't give the product the love that it deserves anymore, and in the meantime Tally is taking up 200% of our time. We also realized that we are (way) more passionate about the no-code space than we were about influencer marketing, so we decided to sell.
We listed Hotspot on MicroAcquire and gave our first startup (with pain in our hearts) a new home. It wasn't easy to say goodbye. We sold when the travel industry was at its lowest, but we gained headspace and oxygen to fuel Tally with.
That's it for now, feel free to take Tally for a spin. It's free and you don't need an account to try it out 😊.
Marie & Filip