Becoming #1 Product of the Month: our Product Hunt launch results
In this blog post, we'll take you behind the scenes of our recent Product Hunt launch and share the results we've witnessed thus far.
On September 19th we launched Tally 2.0 on Product Hunt. It's hard to believe that it's been three years since our debut on the Product Hunt stage, which led to our first significant boost in user growth.
During that time, we've been continuously improving the form-building experience for our users, which resulted in Tally 2.0. We gave Tally a new look, improved its features, and redesigned our product, making it an even more indispensable tool for our users.
Our main goal for sharing our launch on Product Hunt was to attract new users and have them experience our product firsthand.
In this blog post, we'll take you behind the scenes of our recent Product Hunt launch and share the results we've witnessed thus far. Let's dive in!
How we prepared
A lot has been written about how to prepare for a successful Product Hunt launch. We made and used this checklist for our first and second launches, feel free to use it and add new resources!
The results
As it turns out, September 19, 2023, happened to be one of the fiercest days for a Product Hunt launch this year. It unfolded into an intense competition, with three different products gathering over 1,000 upvotes each.
🎩s off to @TallyForms & @klu_hq on a hard-fought day on @ProductHunt - afawct this was the first day of 2023 with 3 launches over 1k upvotes 🤯 pic.twitter.com/nV2ktN7sbG

— Graphite (@withgraphite) September 20, 2023
We were fortunate to receive an overwhelming wave of positive comments and reviews, and by the end of the day, we proudly secured the top spot as the #1 product.

We eventually became the #1 Product of the Day, the Week, and the Month 🎉.

Traffic
On launch day we welcomed 9.8K visitors to our homepage, the second highest-ranked day in terms of traffic to our homepage this year (and ever). Besides Product Hunt, we also shared our Tally 2.0 launch on social media and in our newsletter.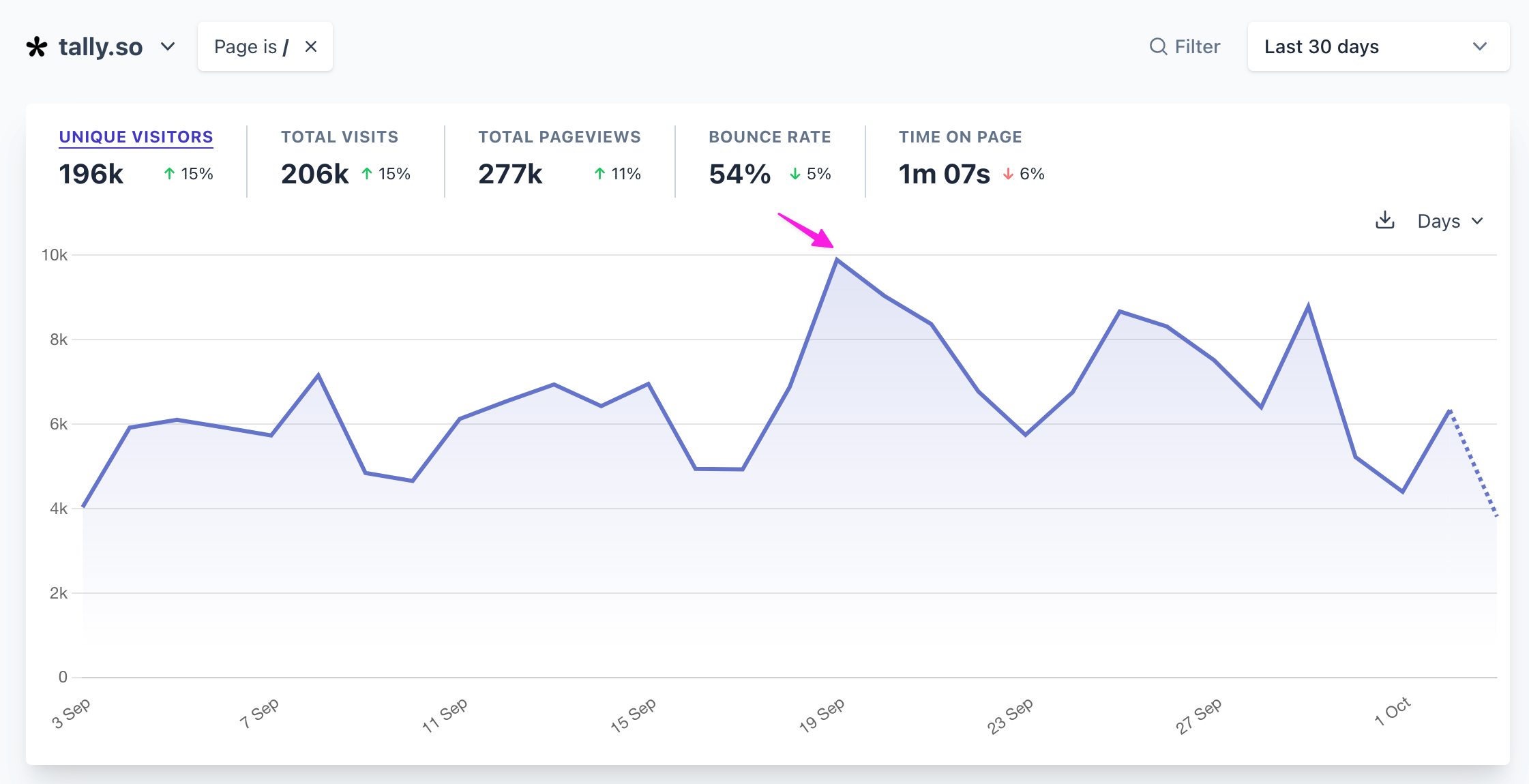 Since launch day 3.9K unique visitors have been referred to our homepage from Product Hunt, with a peek of 1.4K visitors on launch day. We were also mentioned in the Daily Digest and Weekly Digest newsletters by Product Hunt.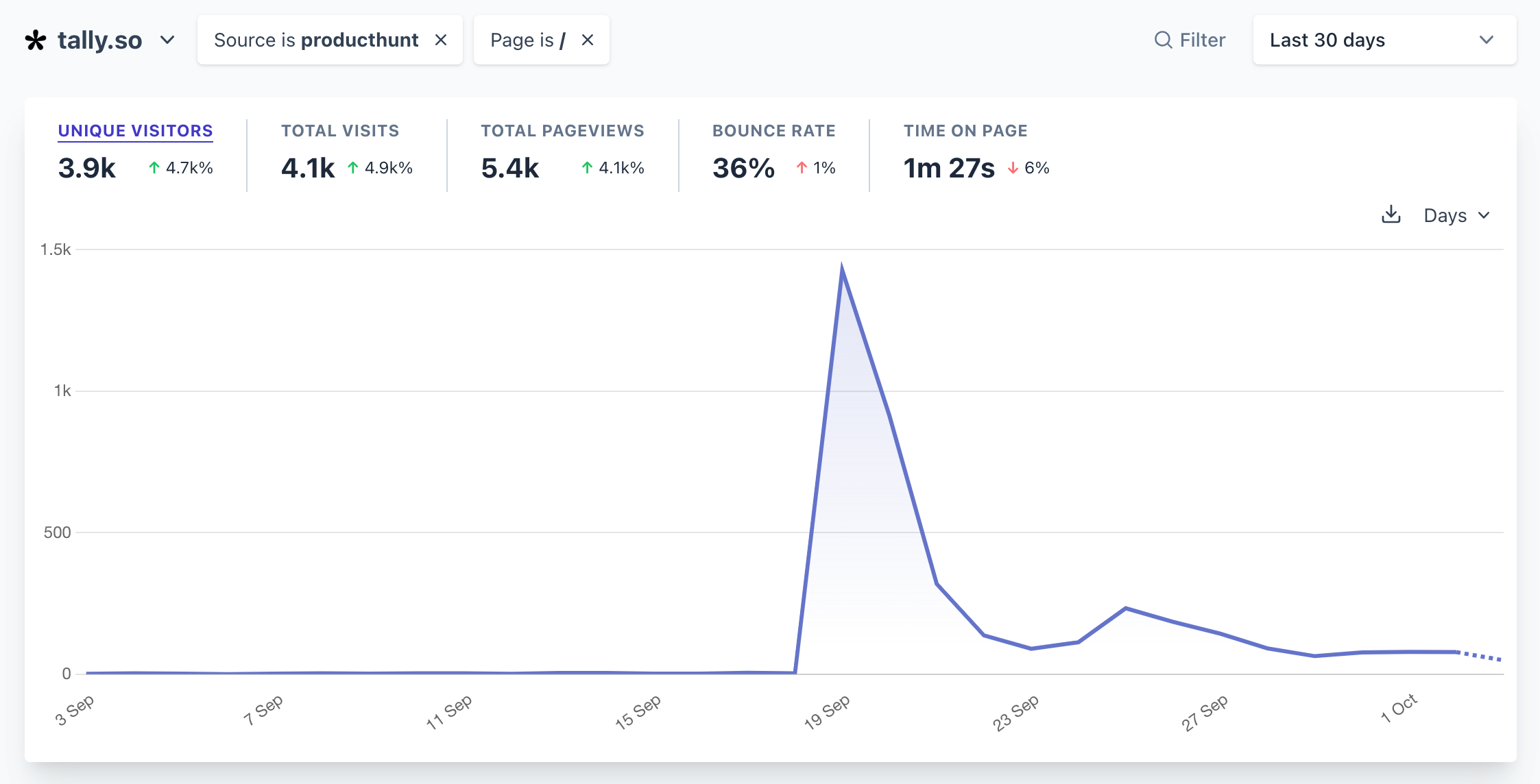 Our blog post about Tally 2.0 has been read by 1.4K visitors during the 2 weeks after launch.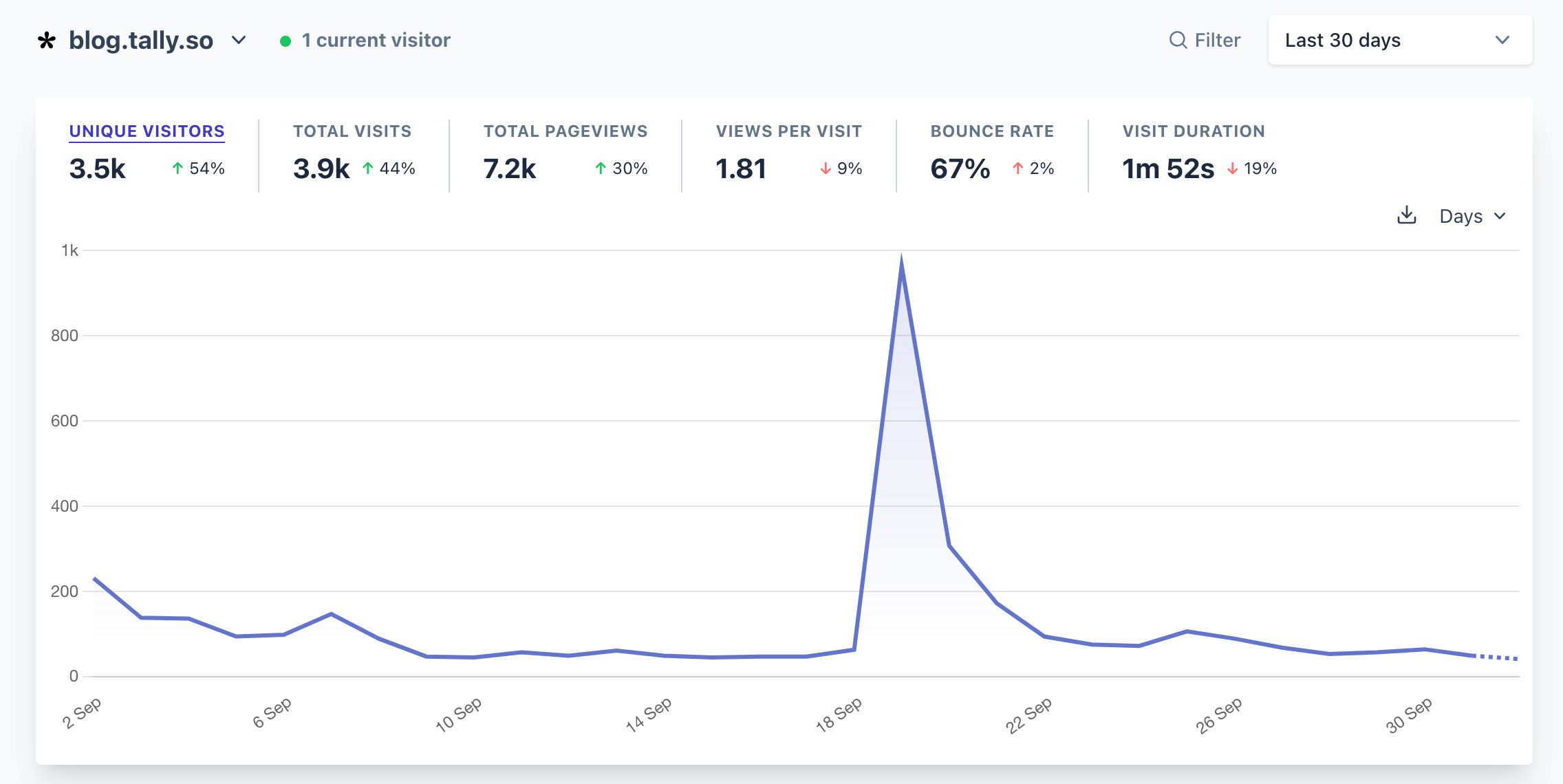 As a result of the launch, we were featured in the Installer newsletter by The Verge.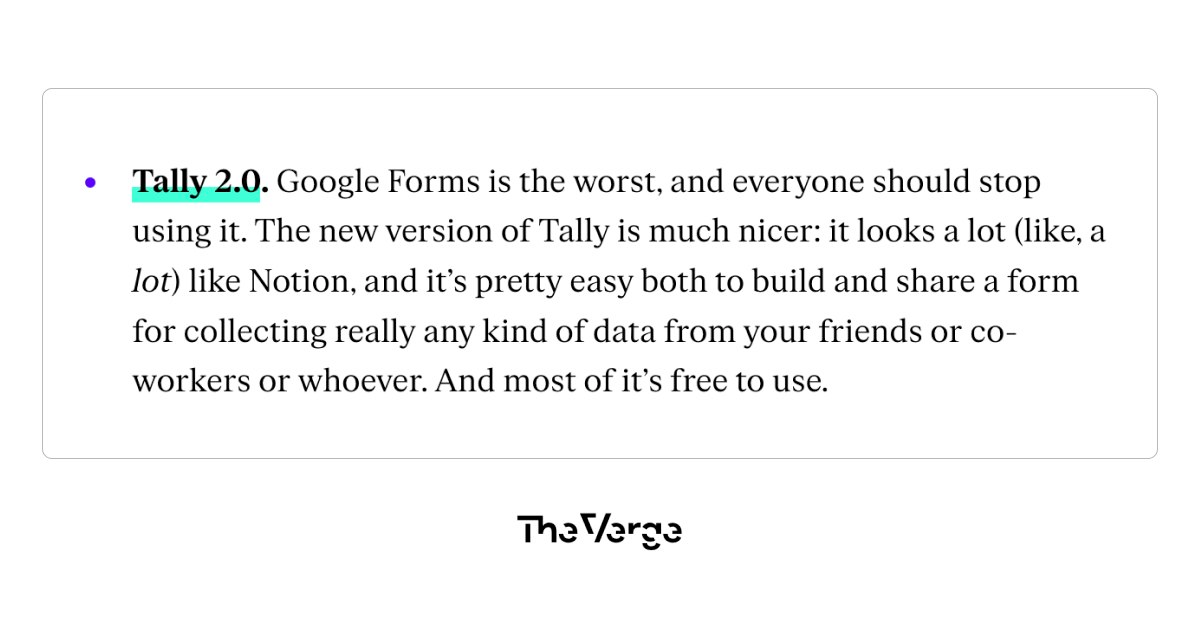 So far we have received 1.7K unique visitors from The Verge mention.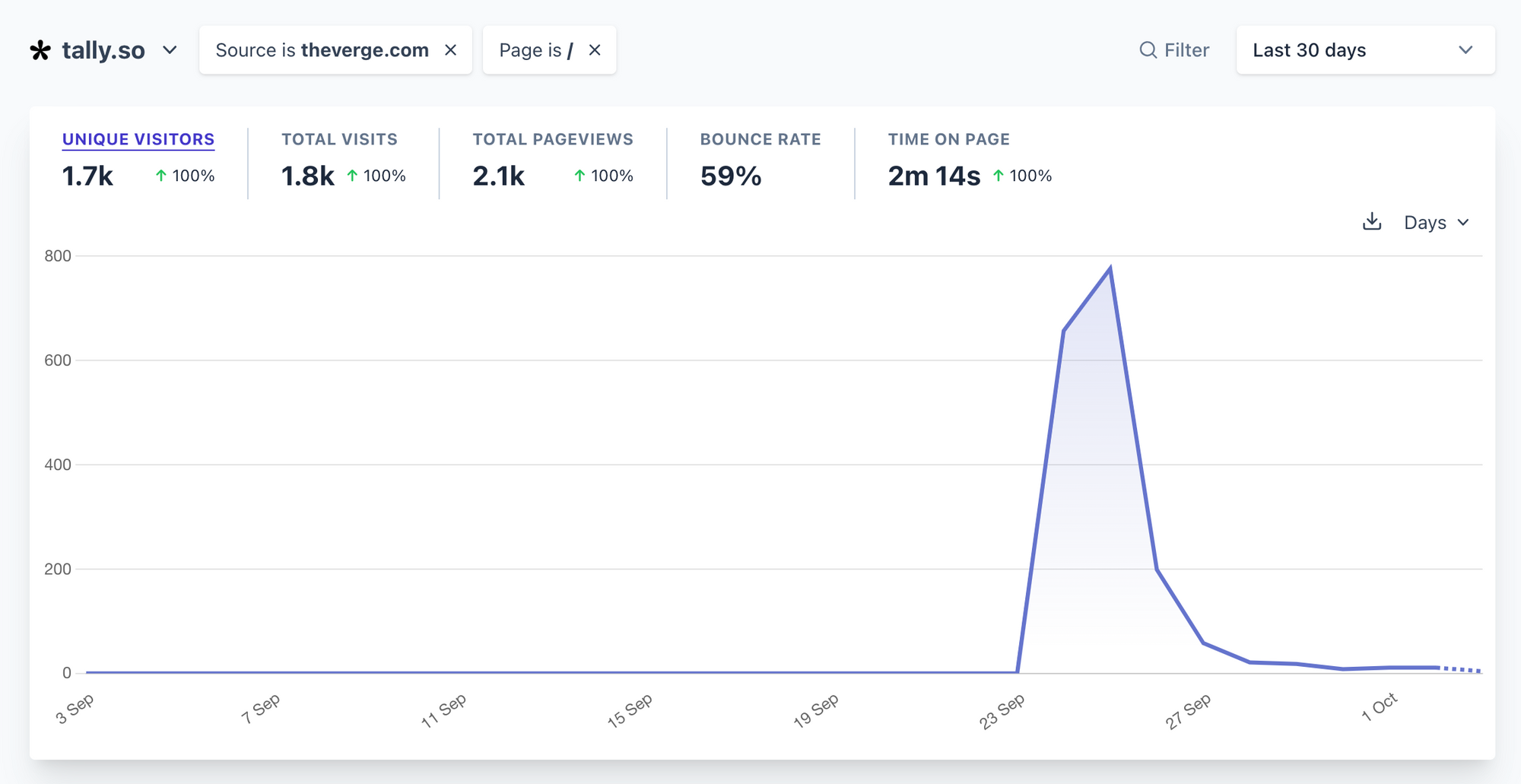 Conversion
During our launch week, we achieved record-breaking numbers in (free) user signups, welcoming a total of 766 new users on launch day and 785 new users on the following day.

On average 2,300 new Tally users sign up per week, in the 2 weeks following after launch we welcomed 4,400 new users per week (+91%).

Conclusion
So, is it worth it? We believe launching on Product Hunt is just one channel you can use to attract new users, and its effectiveness depends on various factors (product type, company stage, competitive landscape, goals...). But, when executed effectively, a Product Hunt launch can generate significant buzz and provide valuable insights for your product's growth.