Looking for an alternative to Typeform? Meet Tally, a new type of form building tool with an intuitive interface and without the expensive paywalls. Create a form in seconds, no sign-up needed.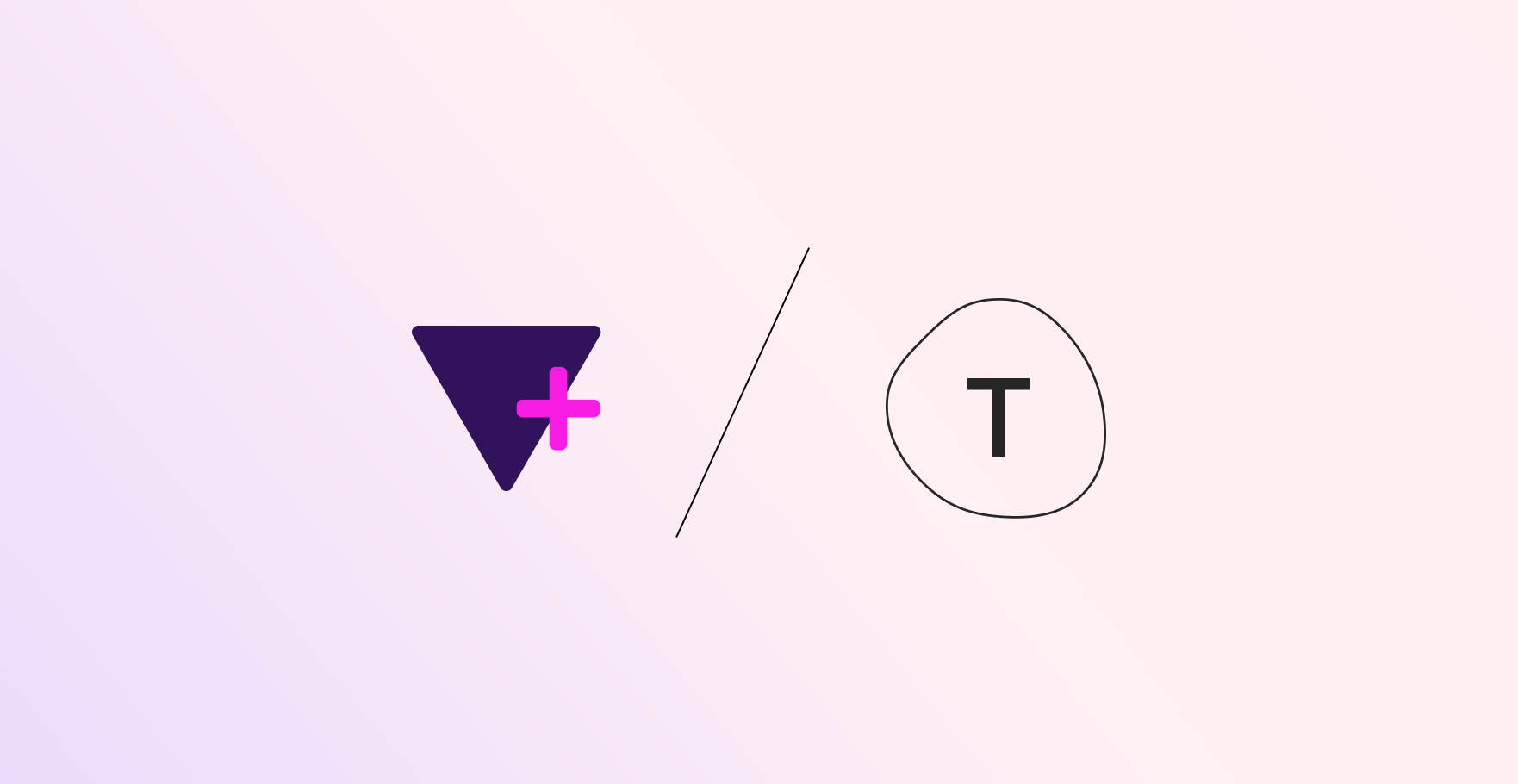 While Typeform is an established player in the form building space and offers a ton of features, it is not the most flexible form builder out there and their free plan forces you to upgrade for almost every meaningful feature.
Let's take a deeper look at the features, functionality, and user experience for Typeform and Tally to help you decide which form builder best suits your needs.
1. Pricing
Tally is the new kid on the block and offers forms for free, without limits. That's right, no limits on the number of forms you create, the number of responses you collect or the number of input blocks (question types) you can use, and tons of free advanced features like collecting payments, calculations, form logic and answer piping.
The Typeform free plan offers a maximum of 3 forms and 100 submissions and a basic set of features. Take a look at our pricing comparison page for a clear overview.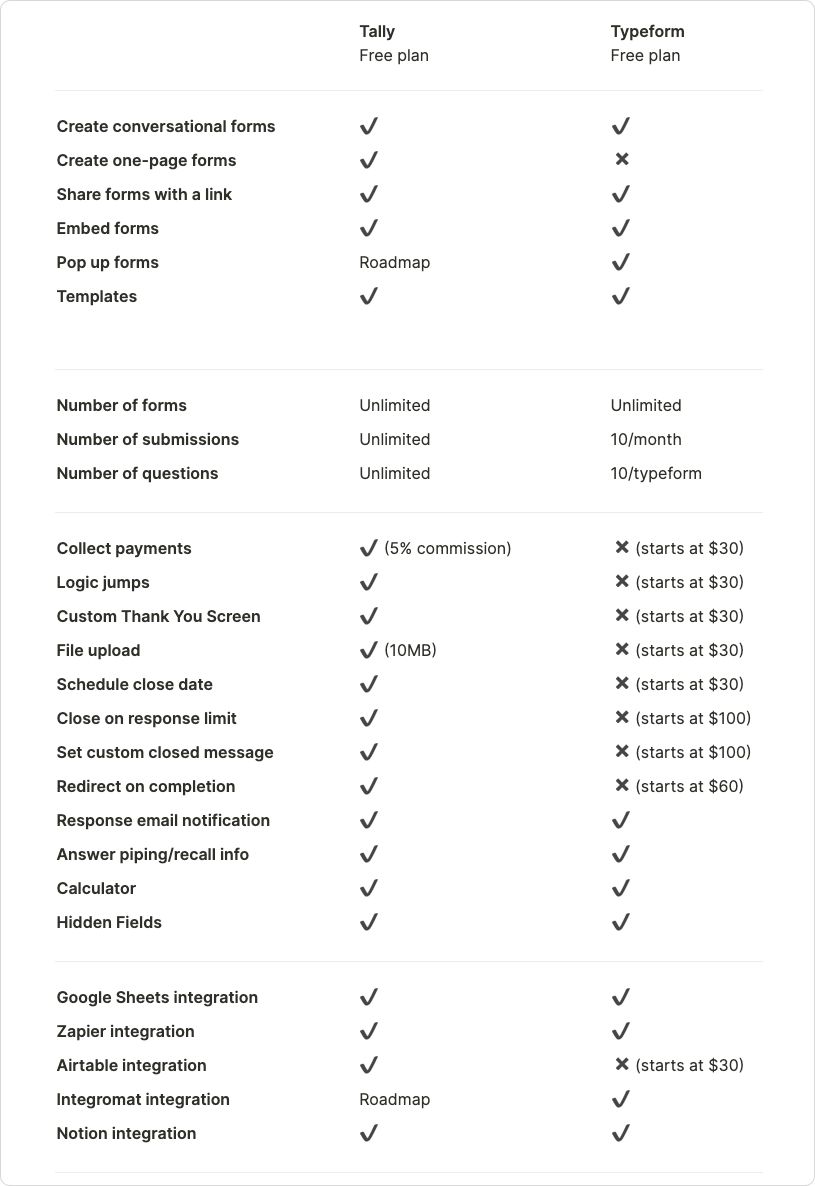 Tally Pro is tailored to the more advanced needs of teams and creators and includes 6 empowering features: custom domains, team collaboration, workspaces, removing of Tally branding, 0% commission on payment forms and unlimited file uploads. Tally Pro is available for $29/month or $290/year.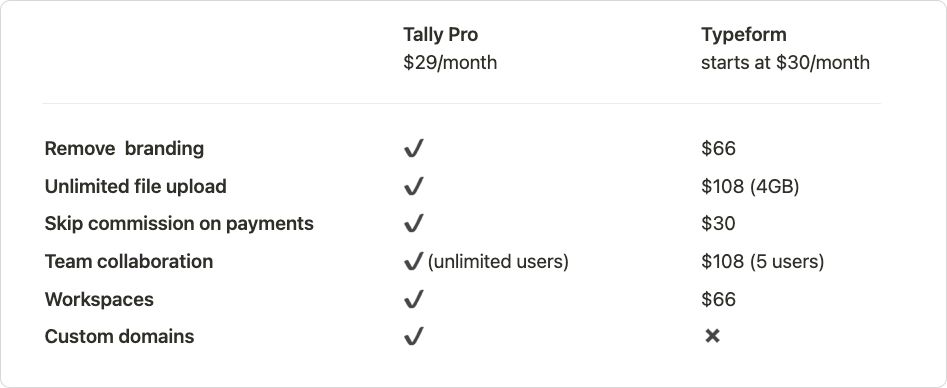 Read more about Tally Pro in this blogpost.
2. Form building experience
We pride ourselves in offering an open, intuitive and flexible form building experience. You can start from a blank page and easily build your form by adding blocks through shortcuts. Some even say: "It's like Typeform and Notion made a baby".
Tally's interface offers a seamless user experience because the form builder works like a text editor. You can just start typing and edit text, insert questions or answer blocks, images and other input blocks. By using shortcuts you can easily build your form from scratch.
Typeform is best for creating surveys and questionnaires that display one question at a time, also known as the conversational form interface. Tally enables you to create and customize any type of form, and doesn't restrict you to 1 question per page.
3. Templates
Typeform has an expansive template library and their free form templates cover most industry niches. You can pick a form template that suits your business needs and personalize it to fit your branding guidelines.
Tally is building a template library together with its community. You can browse through our collection of templates and use them as a starting point for your own form. But you can also create your own template and share it with your team and/or the Tally community. Templates are grouped in 6 segments, depending on your use case:
Creators: Online orders and payments, registrations or contact forms
Product: User feedback, research or churn surveys
Marketing: Customer satisfaction, lead generation or event registration forms
Human Resources: Employee engagement, applications, on- or off-boarding forms
Office: Activity planning, food orders or office organization
Personal: Travel planning, parties or quizzes
4. Features & integrations
Typeform offers a ton of features, but will charge you for almost everyone of them. Advanced features like collecting payments, answer piping, conditional logic, calculator, custom thank you screens and file uploads are free for Tally users and start at €30/month for Typeform users.
Both Tally and Typeform offer an integration with Zapier and allow you to connect your forms to over 2.000 apps. Tally offers other integrations with Airtable, Notion and Google Sheets (and more to come) for free. Typeform includes Zapier in its free plan and offers more integrations its free and paid plans.
Take a look at our public roadmap to discover upcoming features and integrations.
5. Don't take our word for it
Follow us on Twitter or join our Slack channel to talk to Tally users about their experience with Tally.