Creating forms with Tally is free. 99% of our features are available to all users without limits on creating forms, question/answer blocks, or respondents.
So what is Tally Pro all about? Our Pro plan is tailored to the more advanced needs of teams and creators and includes 7 empowering features: team collaboration, workspaces, removing of Tally branding, 0% commission on payment forms, unlimited file uploads, customizable (self and respondent) email notifications, and custom domains. Tally Pro is available for $29/month or $290/year.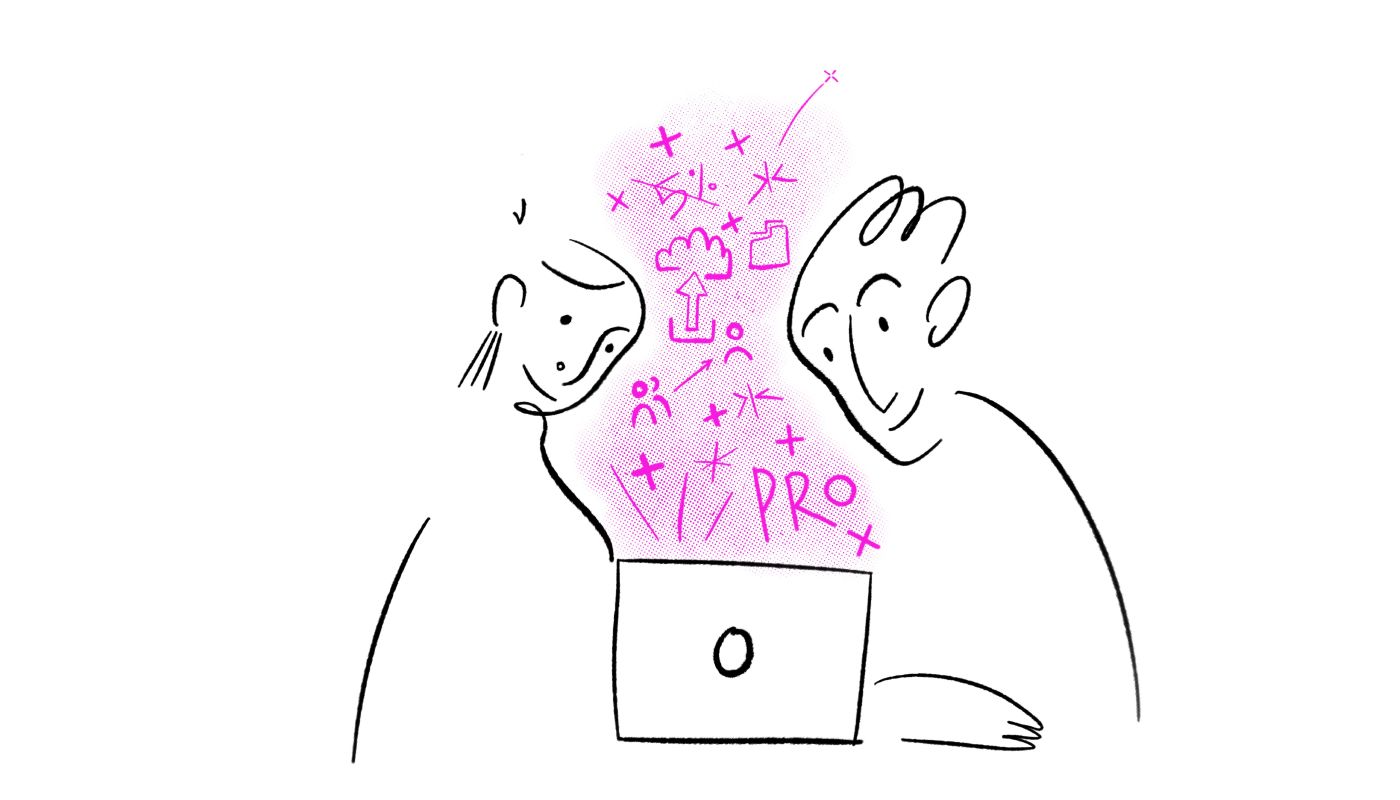 👯‍♂️  Team collaboration
Tally Pro users can invite anyone to collaborate on forms in shared workspaces and share form results, without having to share your private login credentials.
Invite an unlimited amount of users
All users have the same rights to create, edit, view, and delete forms
Manage access to workspaces with multiple users
📂  Organize forms in workspaces and manage access
Tally Pro allows you to group related forms together in workspaces. If you work in an organisation or for several clients, you may need to collaborate with different teams while creating forms. With workspaces you can collaborate and manage access to forms in a workspace.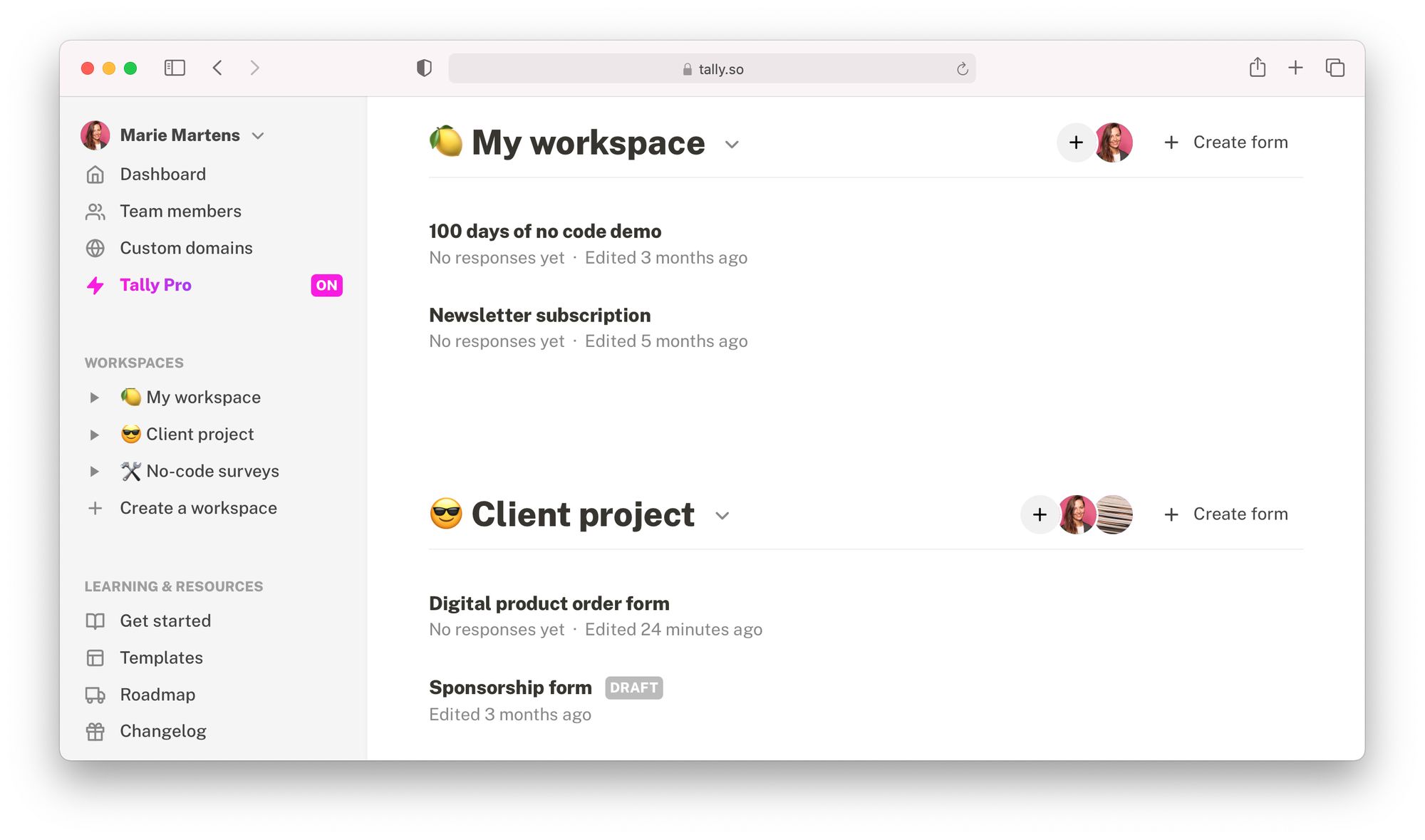 💳   Skip 5% commission on payments
Looking for a quick way to validate demand for your product or to sell without having to set up Shopify or another e-commerce platform? You can use Tally to easily create a payment form and sell products or services. We use Stripe to process payments securely. Free Tally users can collect payments at the rate of 5% Tally commission plus a small Stripe transaction fee. By upgrading to Tally Pro you remove the 5% commission and only pay the Stripe transaction fee on your incoming payments.
Free plan: 5% Tally commission + Stripe transaction fee
Tally Pro: Only pay the Stripe transaction fee
🎨  Remove Tally branding
Looking for a way to create forms that fit your brand? With a Tally Pro account you can remove all Tally branding and have your forms seamlessly represent your brand. Upgrade to Pro to hide the "powered by Tally" button in the footer and on your Thank You page.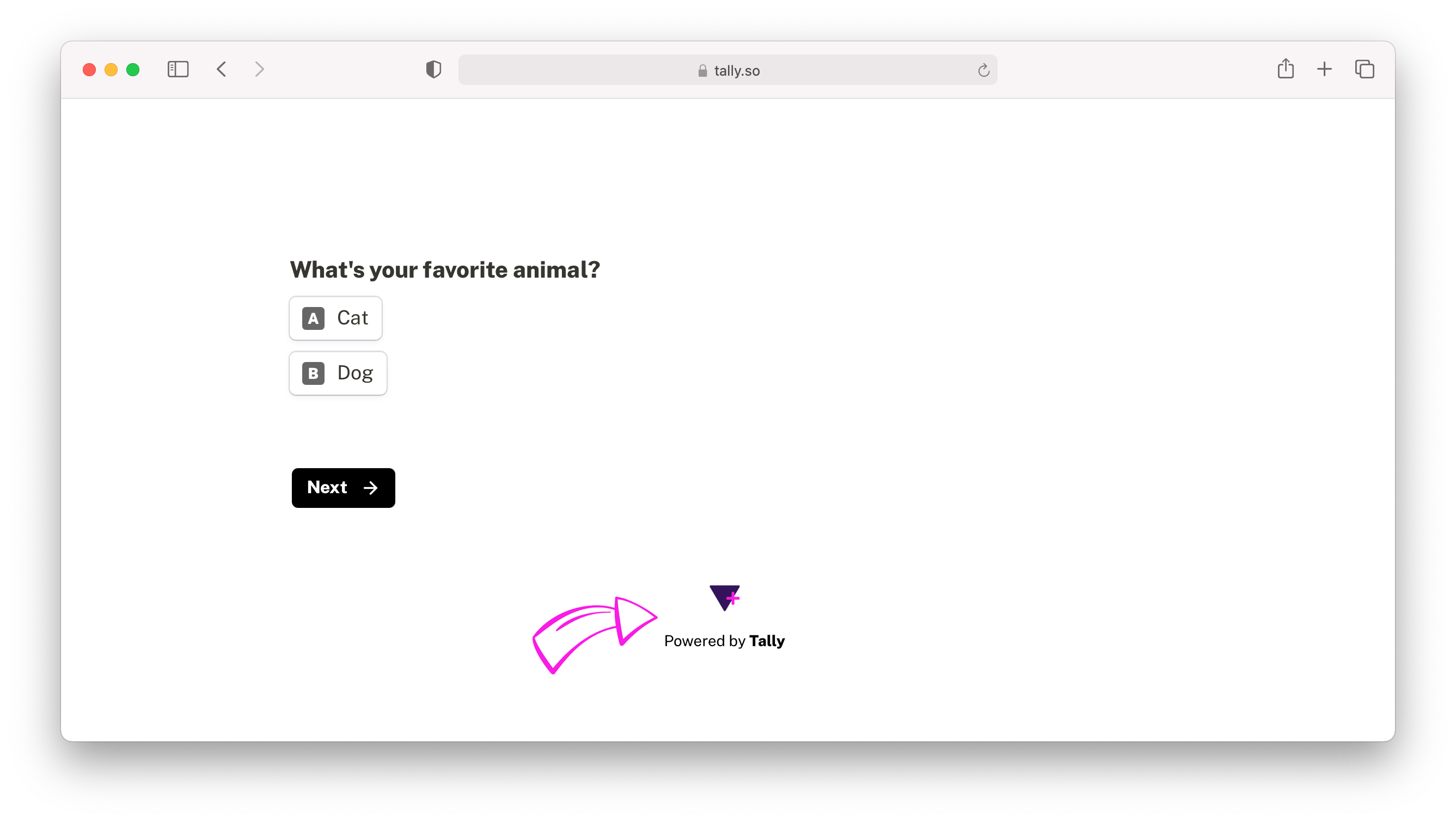 ⬆️  Unlimited file storage
Tally Free supports uploading any type of file using the File Upload question block (with a maximum file size of 10MB). Looking for a way to collect larger files from respondents? Tally Pro offers unlimited file storage.
🌎  Custom domains and styles
Personalize your Tally form URLs with custom domains. Make your Tally forms recognizable and easier to share, by mapping unlimited domains or subdomains to your Tally forms. We take care of hosting and provide SSL certificates and you can customize your forms via metadata and code injection. Read more about custom domains here.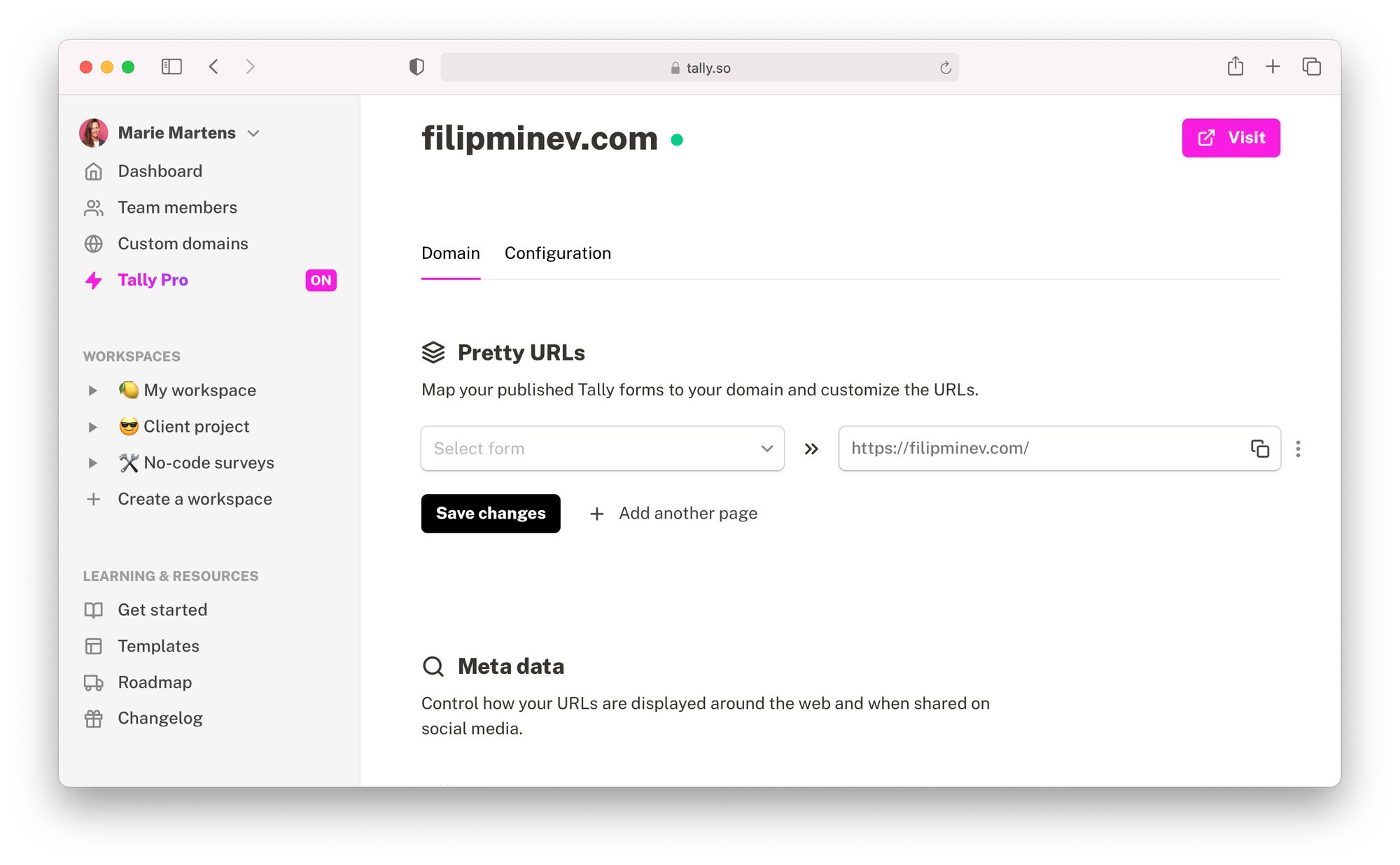 💌 Customizable email notifications
Send emails to yourself, your team, or to the respondent after every form submission. With Tally Pro, you can fully customize the email recipients, subject, and email body.
By inserting variables in your email you can even create dynamic emails based on form responses. Think of triggering emails to different email addresses based on the form responses or creating dynamic emails to send the result of a quiz with a customized message based on the score.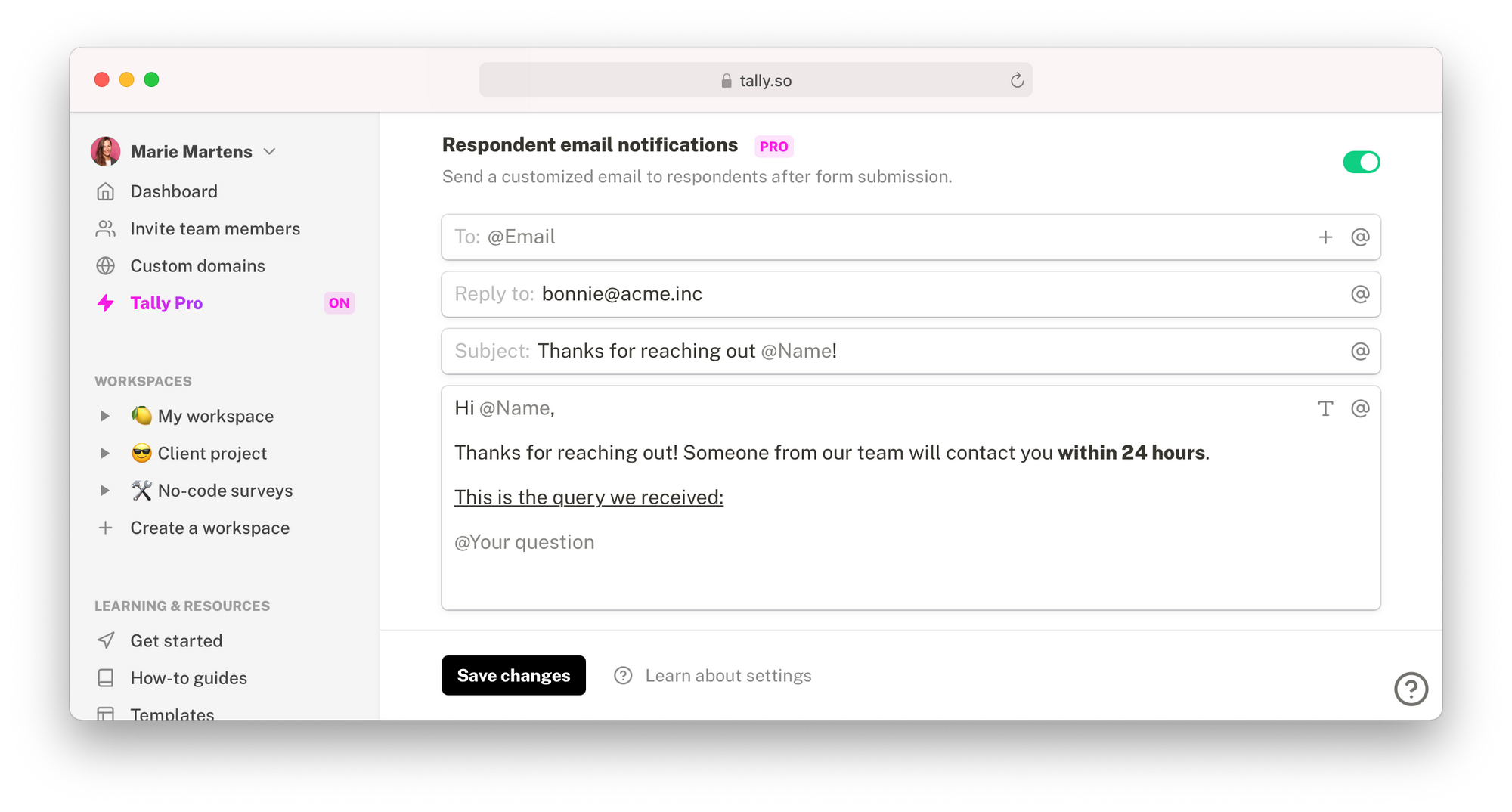 Want to upgrade to Tally Pro? Head to your dashboard and click 'Tally Pro' in the sidebar. If you have questions, you can always reach us via hello@tally.so — If we're not asleep, we'll make sure to answer within the hour!