Looking for a free alternative to Jotform? Meet Tally, a new type of form-building tool with an intuitive interface and without the expensive paywalls. Tally is the simplest way to create forms, without knowing how to code, and for free.
Tally versus Jotform
Trusted by millions around the world, JotForm offers customizable templates, advanced form features, and more than 100 apps and integrations. When we look at the numbers, Jotform is one of the biggest players in the form-building business.
The biggest difference between Tally and Jotform lies in the pricing model, form-building experience, feature- and integration-richness, and the community-driven roadmap.
The Pricing
Tally offers unlimited forms, submissions, views, and questions for free. No annoying paywalls, and 1 simple Pro plan aimed at teams & creators at a fixed price of $29/month or $290/year.
Jotform offers 5 forms and 100 submissions in their free plan, combined with several volume-based pricing plans starting at $29/month. We've lined up both pricing models side-by-side for you to compare.
→ Use our interactive calculator to calculate subscription costs in no time.
Features
Tally Free
Jotform Free
Unlimited forms
✅
❌ (5/month)
Unlimited submissions
✅
❌ (100/month)
Unlimited submission storage
✅
❌ (500 submissions)
Unlimited form views
✅
❌ (1000 monthly views)
Unlimited questions
✅
✅
One question per page
✅
✅ (Jotform Cards)
All questions on a single page
✅
✅
Self email notification
✅
✅
Respondent email notification
✅
✅
Accept payments
✅ (5% commission)
✅ (10 submissions)
Available space
10 MB/file
100 MB
Conditional logic
✅
✅
Answer piping
✅
✅
Calculator
✅
✅
Hidden fields
✅
✅
Redirect on completion
✅
✅
Custom thank you pages
✅
✅
Form embed
✅
✅
Embed content
✅
✅
Let's have a look at Tally's Pro subscription, aimed at creators and teams, in comparison to Jotform's free, bronze, silver, gold, and enterprise plans.
| Features | Tally Pro | Jotform |
| --- | --- | --- |
| Removal of branding | $29/mo | $29/mo |
| Custom domains | $29/mo | Jotform Enterprise |
| Unlimited file uploads | $29/mo | $99/mo (1TB) |
| No commission on payments | $29/mo | $99/mo |
| Customizable Email notifications | $29/mo | $29/mo |
| Team collaboration | $29/mo (unlimited) | Jotform Enterprise |
| Workspaces | $29/mo | $66/mo |
| Partial submissions | $29/mo | ❌ |
| Google Analytics integration | $29/mo | Free |
| Facebook Pixel integration | $29/mo | Free |
The Interface
Tally is a new type of form builder that works like a text document. You can just start typing and insert any type of block by using shortcuts. Just type '/' and choose from a list of questions, answers, layout blocks, and smart features such as logic, calculator, and hidden fields.  Everything is bundled in one simple command, which makes the form-building very intuitive and user-friendly.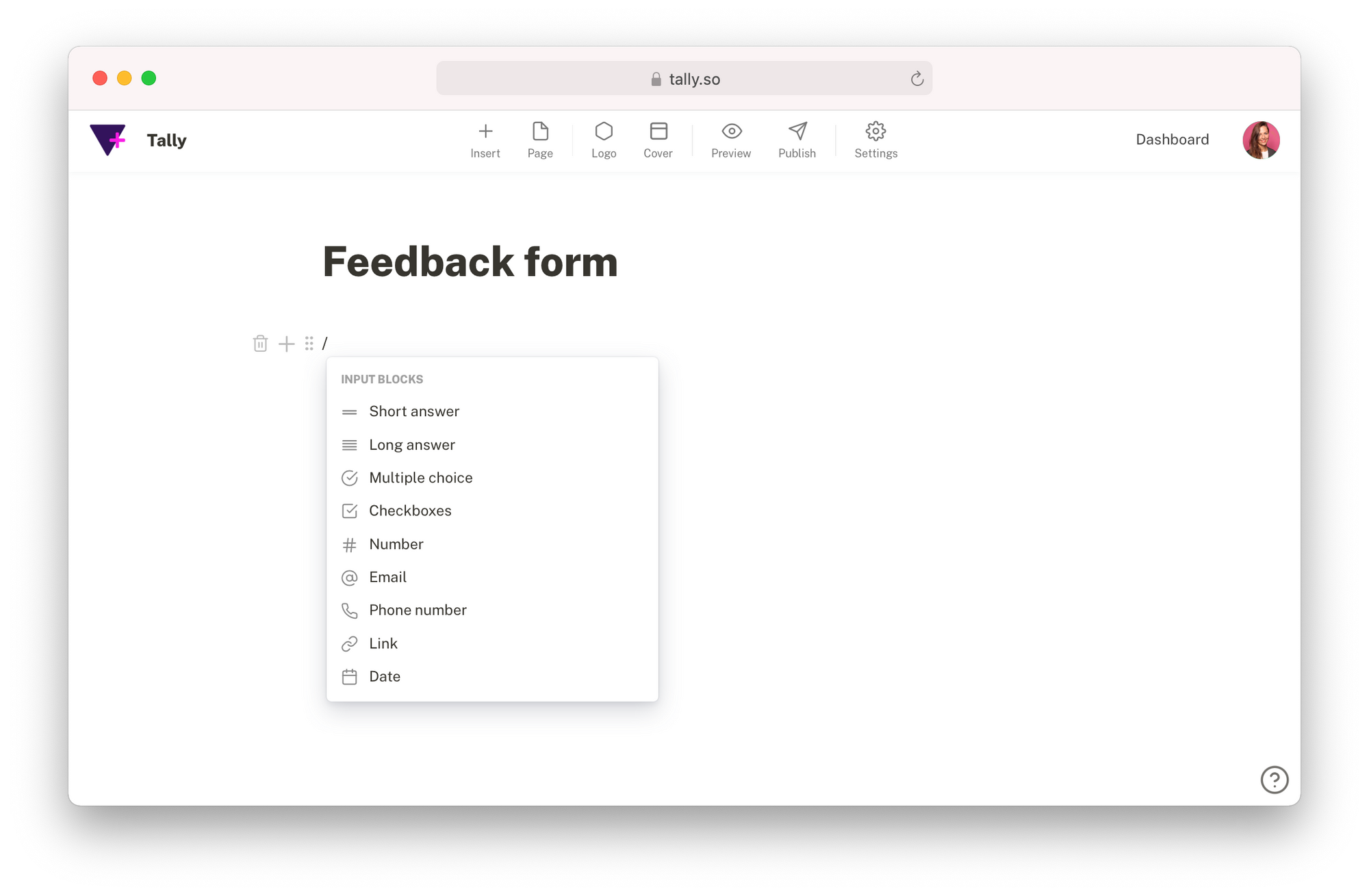 JotForm, just like most form builders out there, has a traditional drag-and-drop interface. This means that you need to select fields in the side panel and drag them into your forms.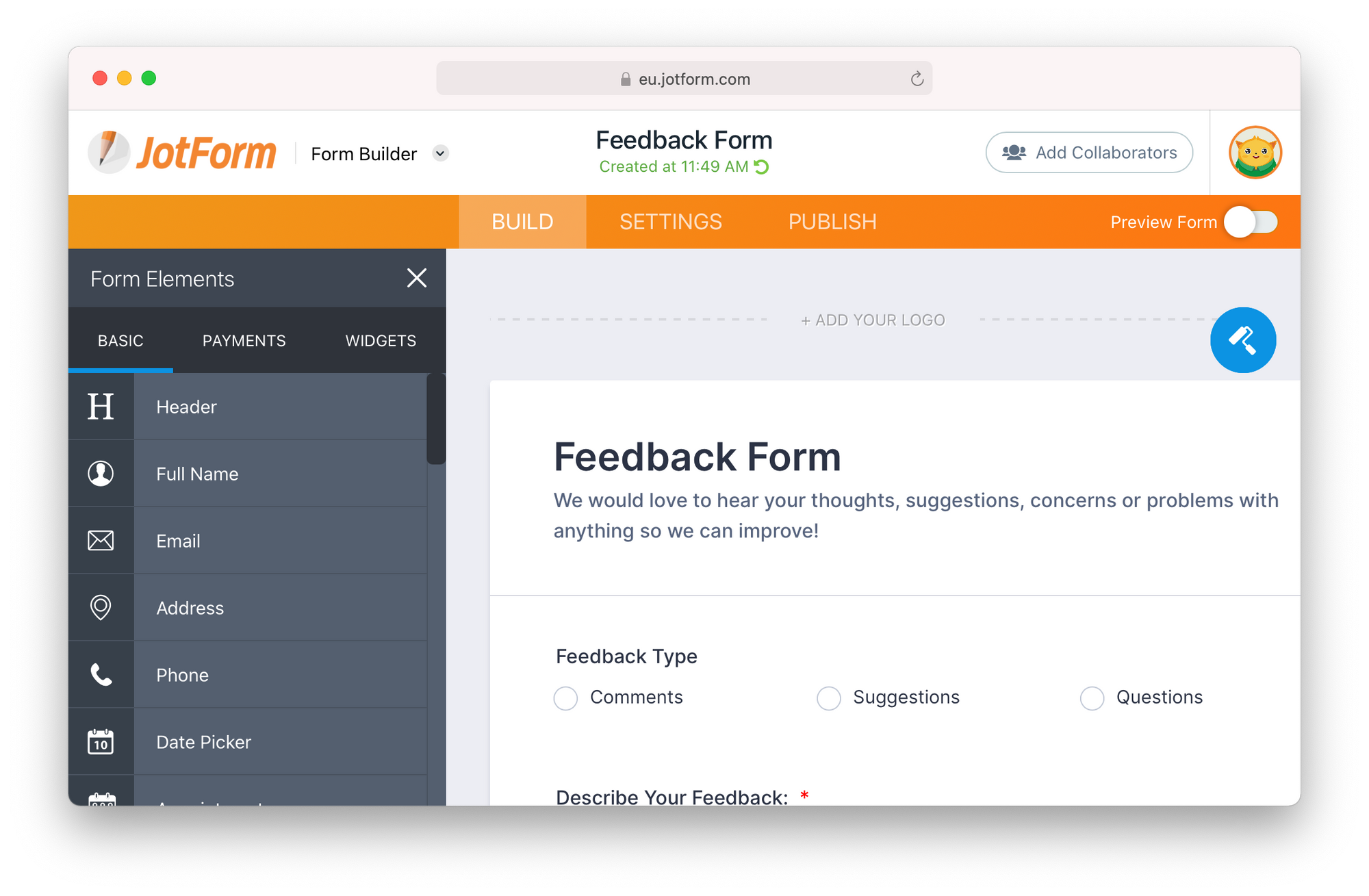 Features and Integrations
Everything you need to build a smart form is included in Tally's free tier. Actually, 99% of all advanced form building features are available for free (no matter how many forms you create and responses you collect).
Jotform offers a ton of features and integrations, but you can only access them for free for a maximum of 5 forms.
Integrations
Tally Free
Jotform (5 forms/month)
Airtable
✅
✅
Google Sheets
✅
✅
Notion
✅
✅
Zapier
✅
✅
Integromat
✅
✅
Webhooks
✅
✅
Slack
✅
✅
Driven by the community
Tally is not run by a huge company but was founded by a bootstrapped team of 2 people. By using Tally you support us indie-makers and lots of other indie businesses that use Tally. We have a public roadmap, driven by the community, which means our users decide what we will be building next. We're shipping new features every week and share our progress on our changelog.
You can join the conversation on Slack, Twitter, or via mail.